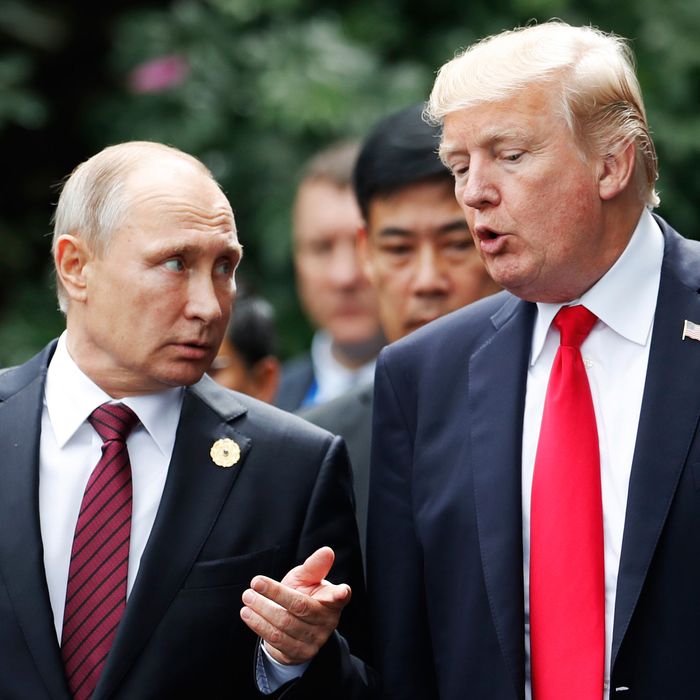 Bosom buddies.
Photo: Jorge Silva/AFP/Getty Images
After a foreign-policy aide at the Kremlin said that President Trump had extended a White House invitation to Russian president Vladimir Putin, Press Secretary Sarah Huckabee Sanders confirmed that Trump had indeed broached the possibility.
On Monday morning, Yuri Ushakov said that during a March 20 phone call between the two leaders, Trump proposed a face-to-face meeting in Washington. Putin hasn't visited the White House since 2005.
Asked about the Kremlin's claim, Sanders said that Trump had mentioned a "number of potential venues, including the White House," and didn't comment further.
Since the phone conversation two weeks ago, the Trump administration announced that it would expel 60 Russian diplomats from U.S. in the aftermath of Russia's suspected poisoning of Sergei Skripal, an ex-spy living in England. Russia retaliated in kind, ejecting 60 American diplomats from St. Petersburg.
Ushakov acknowledged that "against the backdrop of these events, it's difficult to discuss the possibility of holding a summit," but said that  "one day, at one time or another, we can arrive at the start of a serious and constructive dialogue."
During the same phone call on March 20, Trump reportedly congratulated Putin on his recent, not-exactly-contested reelection win, even though aides had specifically told him not to.
That was the latest example of Trump's strange, unquestioning respect for Putin, an affection that seems to go well beyond his natural inclination toward strongmen.
A sit-down would likely come against the backdrop not only of deteriorating relations between the two countries (despite Trump's Putin fanboy routine), but Special Counsel Robert Mueller's continuing investigation into Russian electoral interference in the 2016 election, which Trump has consistently downplayed.