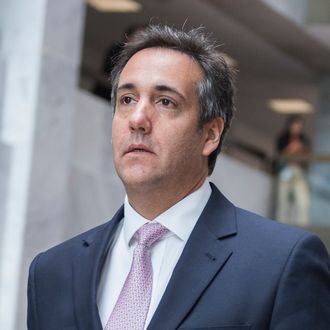 Michael Cohen.
Photo: Tom Williams/CQ-Roll Call,Inc.
Donald Trump's ability to weather the Mueller investigation hinges in large part on whether Trump's fixer, Michael Cohen, will flip on him. And that question, in turn, hinges on the bizarre relationship between Trump and the sycophant he often spurns. Cohen alternately worships Trump and resents him, and Trump alternates between rewarding Cohen for his canine loyalty and humiliating him for sport.
The Wall Street Journal has a sad example of one of the ways in which Trump has previously embarrassed his fixer. Trump agreed to attend Cohen's son's bar mitzvah, but then showed up late, and Cohen humiliatingly delayed the ceremony to suit his boss's arrival. "After Mr. Trump arrived," the Journal reports, "he gave a speech, telling guests he hadn't planned to come, but he relented after Mr. Cohen had repeatedly called him, his secretary and his children begging him to appear, the attendee said."
Exactly how far Cohen will go to protect Trump is very difficult to predict. Neither of these men is psychologically normal.