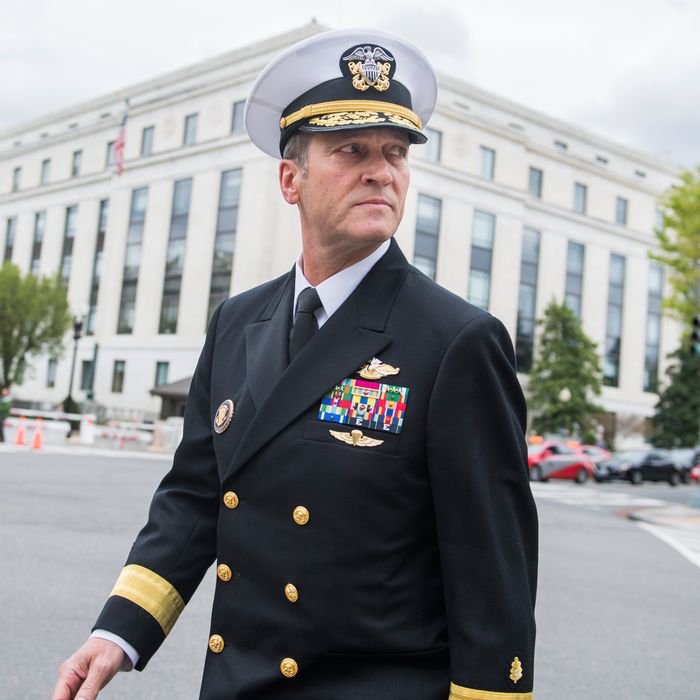 Remember when no one knew my name?
Photo: Tom Williams/CQ-Roll Call,Inc.
It's looking less and less likely that Ronny Jackson will be the next secretary of Veterans Affairs.
Reports that Jackson had been accused of misconduct had already thrown his nomination into doubt, with the Senate postponing his confirmation hearings. But President Trump made comments on Tuesday that indicated he'd like Jackson to pull out of the process altogether.
During a news conference with French president Emmanuel Macron, Trump tried to position his lack of enthusiasm as a testament to the injustices facing Jackson.
"I don't want to put a man through a process like this. The fact is, I wouldn't do it. What does he need it for? To be abused by a number of politicians?" Trump said.
The president theorized that Democrats unable to halt Mike Pompeo's nomination to be secretary of State were now moving on to Jackson.
"They failed to stop him, so now they say 'Who's next?'" he said.
Later, Trump met with Jackson in the Oval Office, and didn't appear to pressure him to step aside.
A White House official then said that Jackson would not withdraw his nomination.
But the doctor received a further dose of bad news on Tuesday afternoon. The Associated Press reported that in 2012, a watchdog report ordered by Jackson himself had found that he and Dr. Jeffrey Kuhlman, a rival in the White House Medical Unit at the time, had both behaved unprofessionally. The report found that the conflict between them had become so rancorous that workers described the dynamic as "being caught between parents going through a bitter divorce." It suggested that the White House replace Kuhlman, or Jackson, or both. Kuhlman left in 2013.
Jackson had denied the existence of any such report just hours earlier.
Jackson, a rear admiral in the Navy, was nominated to replace the recently dismissed David Shulkin at Veterans Affairs, which employs 370,000 people — the second-largest number of people of any Cabinet department. Jackson has been a White House physician during the last three administrations, and served as an emergency trauma doctor in Iraq.
But, in keeping with the Trump administration's usual slapdash approach to personnel matters, Jackson wasn't vetted in any traditional way. His central qualification: He impressed the president by trumpeting the president's supposedly superhuman health at a news conference in January.
On Monday, CBS News reported that in the run-up to Jackson's nomination hearing, which was supposed to take place on Wednesday, current and former White House staff members approached Senator Jon Tester, the ranking Democrat on the Senate Veterans Affairs Committee, with stories of Jackson's misbehavior.
Sources familiar with the tales say Sen. Jon Tester's committee staff is reviewing multiple allegations of a "hostile work environment." The accusations include "excessive drinking on the job, improperly dispensing meds," said one of the people familiar, who was granted anonymity to speak frankly about the situation. The other people familiar with the stories also confirmed those details.
"We take very seriously our constitutional duty to thoroughly and carefully vet each nominee sent to the Senate for confirmation," Tester and Senator Johnny Isakson, the committee chairman said in a statement on Monday, announcing the postponement of Jackson's hearing. "We will continue looking into these serious allegations and have requested additional information from the White House to enable the committee to conduct a full review."