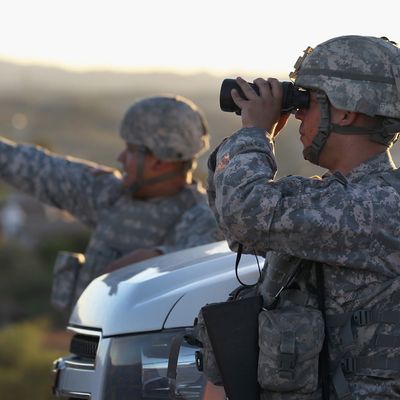 National Guardsmen at border in 2011.
Photo: John Moore/Getty Images
President Trump will sign a proclamation on Wednesday directing the deployment of National Guard troops to the U.S. border with Mexico, Secretary of Homeland Security Kirstjen Nielsen told reporters.
"It's time to act," Nielsen said. Her announcement came a day after Trump said, "We are going to be guarding our border with our military. That's a big step."
Nielsen could not provide many details on the deployment, including how many troops are involved, how long it will last, or how much it will cost. The announcement follows a week of Trump fuming over border security, despite crossings being at a historic low, and his suggestion that the Pentagon pay for the construction of a wall between the U.S. and Mexico. That would not be legal.
Nielsen said the troops will be serving support roles, as they did when deployed to the border by Trump's two predecessors. In 2011, a year after President Obama deployed 1,200 troops to the border under pressure from state politicians, the Washington Post explained what they did:
While citizens might imagine the National Guard patrolling the muddy cane breaks along the Rio Grande in search of drug cartel incursions, many of the troops instead serve as stationary observers, a kind of neighborhood watch with M-16s, often perched 30 feet in the air in skyboxes, portable watchtowers the size of phone booths.




Other troops work the telephones and computers in back offices, as clerks in camouflage.
The troops will not be allowed to arrest anyone at the border, Nielsen said. But they will provide aerial surveillance and other support functions.
Though welcomed by governors in the Southwest, Obama's deployment of the National Guard to the border was criticized at the time as a waste of money. As the Post reported, "1,200 National Guard troops have helped Border Patrol agents apprehend 25,514 illegal immigrants at a cost of $160 million — or $6,271 for each person caught."