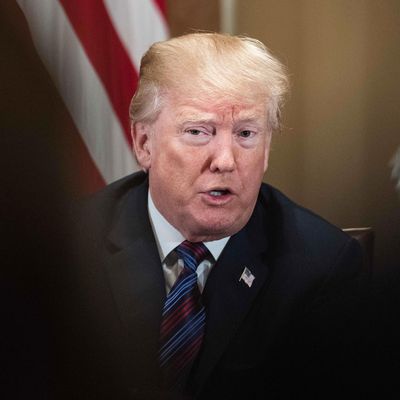 Donald Trump.
Photo: Nicholas Kamm/AFP/Getty Images
After a day full of leaks from James Comey's forthcoming book, President Trump fired back at the former FBI director Friday morning with two insult-laden tweets.
Comey, whose A Higher Loyalty comes out next week, is a "LEAKER & LIAR," Trump wrote in the first tweet. He should also be prosecuted for leaking classified information, Trump added.
In the completion of his thought, which he posted 16 minutes later, Trump called Comey an "untruthful slime ball." He concluded the missive by declaring: "It was my great honor to fire James Comey!"
When it comes to Comey's trustworthiness, the American public appears to disagree with Trump. According to a new ABC News/Washington Post poll, Americans find Comey more believable than Trump by a 16-point margin. In the poll, 48 percent said Comey is more believable than Trump, while 32 percent said the president could be trusted.
More than a year after he fired Comey, Trump is still getting poor reviews for the decision, with the poll showing that 47 percent of Americans disapprove while 33 percent approve.