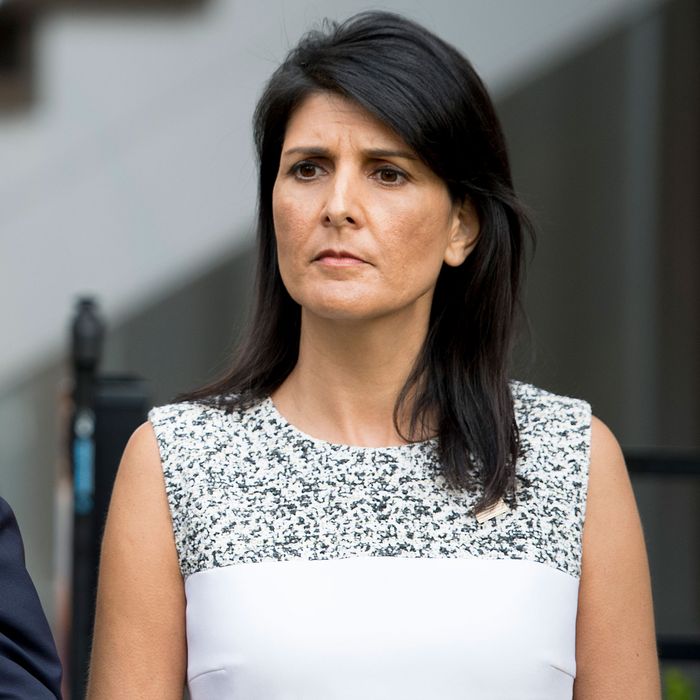 He said, she said.
Photo: Jim Watson/AFP/Getty Images
On Sunday, Nikki Haley informed the United Nations that our government was preparing sanctions against Russian companies complicit in Syria's chemical weapons program. On Monday, the White House announced that the U.N. ambassador had misspoken.
"We are considering additional sanctions on Russia and a decision will be made in the near future," Sarah Huckabee Sanders said in a statement. But reporting from the New York Times  and Washington Post suggests that Trump has already decided against imposing a new round of sanctions, absent a new provocation from Moscow.
It is unclear whether Haley misinterpreted some message from her higher-ups, or whether the president intervened to kill a plan he'd previously approved. Last Wednesday — minutes after one member of the Fox & Friends morning crew argued that, "What we should be doing is telling the Russians, 'every Syrian military base is a target and if you're there, it is your problem'" — Trump suddenly adopted a hawkish posture toward Putin's regime. The president warned Russia to "Get ready" for a missile strike, and admonished its government for partnering with a with a "Gas Killing Animal." It's conceivable that Trump could have green-lit new sanctions while in that feverish frame of mind, only to subsequently decide that he couldn't stay mad at Vlad.
Regardless, the incident provides the international community with one more bit of confirmation that when high-ranking American Cabinet officials announce foreign policy measures, there's no reason to assume that they speak for the U.S. government.
And yet, Trump's recent humiliation of Haley notwithstanding, the administration's Russia hawks have generally gotten the upper hand on the "Putin-puppet-in-chief." Since Trump took office, the U.S. has provided lethal aid to anti-Russian forces in Ukraine, expelled dozens of Russian diplomats, and imposed devastating sanctions against major Russian companies and oligarchs. The president expressed reluctance about — or outright opposition to — many of these measures, according to the Washington Post, but ultimately gave way to his advisers.
Trump's bizarrely pro-Putin rhetoric — combined with his habit of intervening conspicuously on the Kremlin's behalf in policy disputes — may be giving Americans a distorted sense of their government's actual policy toward Moscow. A Washington Post-ABC poll released Tuesday finds that 68 percent of the public supports "tougher Russia sanctions."
And yet, the sanctions already in place have proven tough enough to disrupt global commodities markets. Earlier this month, the United States imposed sanctions on several Russian oligarchs, officials, and businesses which it accused of abetting the Kremlin's interference in Western democracies. Among those penalized was Rusal, one of the largest aluminum producers in the world. The United States has frozen all assets that the metal giant was keeping in American institutions, prohibited Americans from doing business with the corporation — and pledged to slap sanctions on any foreign individual or firm that does business with Rusal.
The impact of all this has been profound. Rusal had provided 7 percent of the world's alumina, the raw material for aluminum production. Now, with the company sidelined, global aluminum prices have surged to a six-year high, while Rusal's share price has plummeted by 56 percent. And the precedent that America's gutting of the Russian corporation has set — that the U.S. is prepared to destroy Russian firms in the blink of an eye, even at a cost to the global economy — threatens to jeopardize other Russian firms' access to foreign capital. Former World Bank economist Branko Milanović argues that Russia's position is now analogous to that of the Soviet Union in the 1920s, when the international community's refusal to recognize its revolutionary government forced the fledgling empire to pursue an isolationist economic policy (at grave cost to the Russian peasantry).
What current sanctions, and those that may yet come (as for example on Gazprom), show is that Russia is now at the same crossroads at which it was in the early 1920s. Its access to Western markets, technology and capital is all but cut off. It is true that there are nowadays other sources for all three, including in China. But the breadth of sanctions is such that Chinese actors, if they themselves plan to do business or raise money in the United States, will too avoid doing business with Russian entities. So Russian industry will be left to grow, if it can, using only domestic resources, which compared to global resources, are small and inadequate (given how Russia's relative economic and population role in the world has declined). Autarky is thus preordained.




… Putin has thus, through a series of tactical successes, brought to Russia a comprehensive strategic defeat from which neither him, nor the governments that succeed him, will be able to extricate the country.
Milanović's assessment may prove too dire. But there's little doubt that, for all of Trump's bizarre gestures of affection for his Russian counterpart, this presidency is not going how Putin hoped. As journalists keep reminding us, Trump has alienated very few of his 2016 supporters — but the Kremlin is (almost certainly) one.