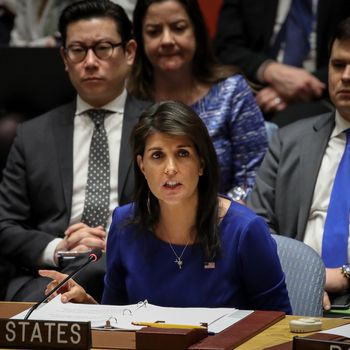 My bad?
Photo: Drew Angerer/Getty Images
When Nikki Haley announced an American sanctions policy on Russia that didn't exist, it was merely because she was personally confused.
That's the unconvincing story, according to National Economic Council director Larry Kudlow, who for some reason weighed in on this major foreign-policy miscommunication to a journalist.
Ah, life in the Trump White House.
Haley had announced on Meet the Press Sunday that the sanctions, which were meant to punish Russian companies for supporting Syria's chemical-weapons program, would be officially rolled out the next day. The hawkish U.S. ambassador to the U.N. is not known to veer off message, or for imprecision of language.
But when Monday morning rolled around, no sanctions were forthcoming. Instead, multiple outlets reported, a familiar pattern had emerged. Against the wishes of his national-security advisers, President Trump had backed off on punishing Russia for fear of … well, we don't know exactly what.
"We are considering additional sanctions on Russia and a decision will be made in the near future," White House press secretary Sarah Huckabee Sanders said in a statement on Monday.
Trump's reluctance to cross Vladimir Putin, clashing against his advisers' uniform desire to discipline him, underscored the point that there are two diametrically opposed Russia policies coming out of the White House at the same time. As Eric Levitz writes, Russia hawks have claimed plenty of victories against their boss: the U.S. has imposed crippling sanctions (just not the ones that were to be announced Monday), expelled diplomats, and armed Ukrainian forces, among other policies. Even Trump had seemed to come around on a more aggressive approach recently, expressing an ill-considered wish to punish Russia over the Syrian chemical-weapons attack.
But just as quickly as it went away, Trump's baseline reluctance to offend Putin seems to have returned. No wonder the White House can't get its policies straight.
UPDATE: Haley offered a memorably disdainful response to Kudlow's comments later on Tuesday. "With all respect, I don't get confused," she said in a statement. Kudlow then called Haley to apologize.