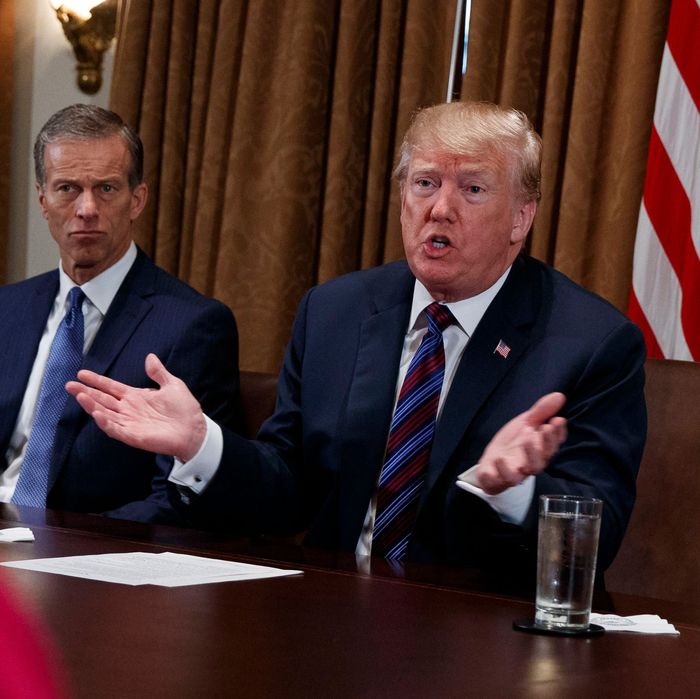 Trump offers farm-state reps subsidies to offset the cost to farmers of his trade war. They professed to be shocked.
Photo: Evan Vucci/AP
Donald Trump has been getting some heat from farm-state members of Congress — including Republicans — concerned that his trade war agenda (most notably with China) could seriously mess with the incomes of their constituents. China's already announced extensive tariffs on some agricultural commodities in retaliation for the Trump administration's new tariffs on Chinese exports of technology, transportation, and medical products, as the Los Angeles Times reported earlier this month:
Besides items like aircraft, cotton, beef and orange juice, Beijing targeted American soybeans, whose producers count on China for more than half of their total foreign sales. In 2016, China purchased $14 billion worth of U.S. soybeans, many produced in states Trump won….




"President Trump's trade war will hit California farmers hard," Sen. Dianne Feinstein (D-Calif.) wrote on Twitter. "$2 billion worth of CA exports —including all exported almonds, walnuts, raisins, plums, grapes, kiwis, dates and figs — will now be subject to a 15% tariff when exported to China. How does that protect American jobs?"
So Trump had a meeting today with farm-state interests to discuss his trade agenda. And according to Axios, he had a bright new idea:
President Trump floated the idea of subsidy payments for farmers in a meeting today with Republican lawmakers, but nobody voiced support, according to two sources familiar with the meeting….




Multiple senators echoed the message "our farmers don't want welfare," one source briefed on the meeting told me. The source added that Iowa Governor Kim Reynolds got the President's attention by saying "our farmers don't want welfare — our farmers want to work and win."
The Washington Post's account of the meeting quoted Trump as expressing satisfaction at what he was hearing:
The White House had been looking at using a Depression-era program known as the Commodity Credit Corporation that could be used to extend subsidies to farmers, but Republican lawmakers pushed back hard on that idea during Thursday's meeting.




"Farmers don't want a handout. They want access to markets," [Sen. Steve] Daines said, adding that senators made that point "very clear."




"The president was surprised by that. He's like, 'really?' He said, 'Oh really? Ok, so we won't do that,'" Daines said.
Like a lot of things involving this president, it's not quite clear what was going on here. Was Trump not aware that there is a relatively large system of agriculture subsidies (valued at over $20 billion per year, not counting the costs passed on to consumers by production controls that boost prices)? Was he aware that probably everyone in the room who protested the idea of "welfare" for farmers supports these subsidies? Did he just not understand the code whereby farm-state folk defend subsidies as a hand-up rather than a hand-out?
I have to say, if I were one of those abrasive conservative ideologues who would like to scrap the entire federal farm program infrastructure, I'd find some way to remind Trump of this meeting when the next subsidy-engorged farm bill comes waddling toward his desk. Perhaps there was some staff follow-up to reassure the farm-state lawmakers know the discussion was something the president would soon forget, or that he didn't take their rejection of a new trade-related subsidy as representing a sudden free-market epiphany. But you never know when this kind of exchange can leap back into the president's mind and cause havoc.