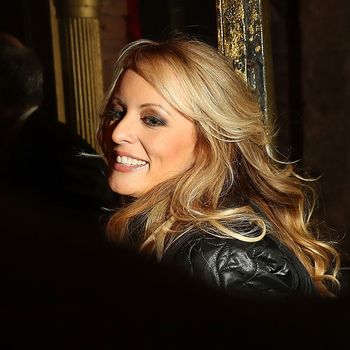 Stormy Daniels.
Photo: Joe Raedle/Getty Images
President Trump on Thursday told reporters that he did not know about the $130,000 his lawyer Michael Cohen paid to Stormy Daniels six days before the presidential election, his first public acknowledgement of the sex scandal involving the adult-film star.
"No," was Trump's one word answer when he was asked if he knew about the payment aboard Air Force One.
"You'll have to ask Michael Cohen," Trump said when a reporter asked why the lawyer made the payment. "Michael is my attorney. You'll have to ask Michael."
Asked if he knew where the money to make the payment came from, Trump said, "No, I don't know."
In the moments after Trump's statement, Michael Avenatti, the lawyer for Daniels, told the Times, "Our case just got that much better." He also suggested in a tweet that Trump was lying to reporters.