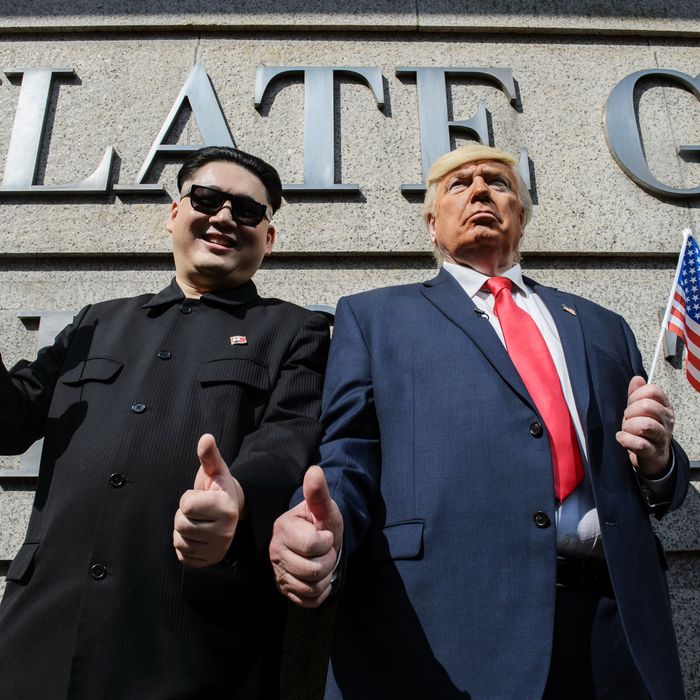 The closest they've come to meeting so far.
Photo: Anthony Wallace/AFP/Getty Images
Weeks before highly anticipated meetings between President Trump and Kim Jong Un are set to take place, Trump said on Tuesday that the U.S. and North Korea have already been talking to each other.
"We have had direct talks at very high levels, extremely high levels," Trump told a press pool after meeting with Japanese prime minister Shinzo Abe in Florida. He did not elaborate on the nature of the talks, or who specifically was involved.
"I really believe there's a lot of good will," he continued. "As I always say, 'We'll see what happens.' Because, ultimately, it's the end result that counts, not the fact that we're thinking about having a meeting, or having a meeting."
Bloomberg reported that U.S. officials had spoken directly to Kim Jong Un to arrange the meetings.
Earlier on Tuesday, Trump said that five locations were being considered for the meeting between him and Kim — reportedly none of them in the United States — and that it would likely take place in early June.
Tuesday's developments are further evidence that, despite significant early doubts from observers, the Trump-Kim summit that was announced in March stands a good chance of actually happening.
What might come out of the meeting is anyone's guess. Trump has demanded that North Korea give up its stockpile of nuclear weapons, a demand the hermetic country has little incentive to fulfill. Trump's agreement to meet with Kim in the first place was seen as a preemptive win for the regime, which craves being seen as a legitimate power. Whether Kim Jong Un simply wants to bask in the glory of full presidential attention, or is interested in some sort of policy shift between his country and the U.S., is an open question.