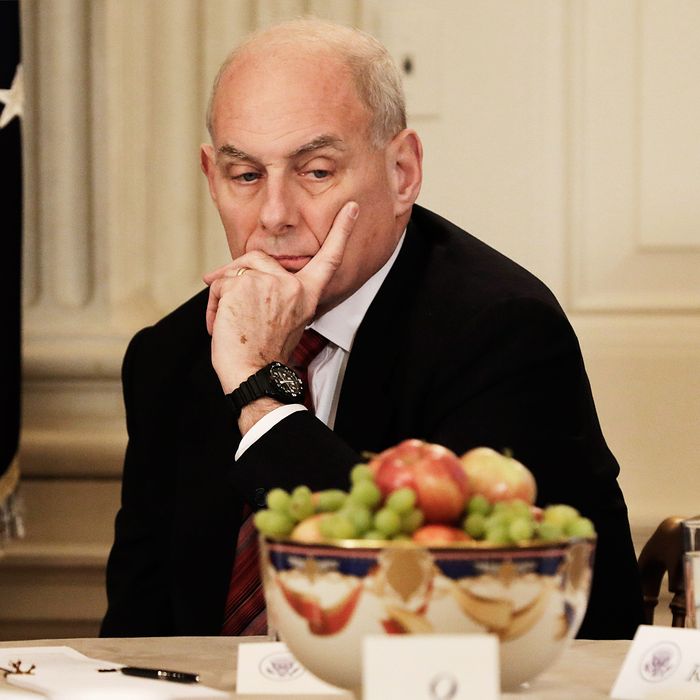 Are we having fun yet?
Photo: Yuri Gripas/Bloomberg via Getty Images
President Trump and one of his advisers want you to think that Chief of Staff John Kelly isn't in danger of losing his job. There is reason to doubt their credibility.
On Saturday, the Washington Post published a thorough chronicling of Kelly's White House downfall, from buck-stops-here enforcer to just another ineffectual observer of Trump's capricious rule. Among other details: Kelly recently blew up at Trump in the Oval Office, and regularly threatens to quit a job he never much liked — though Trump may dispatch him before he follows through on that threat.
Trump responded as you might expect, attacking the Post for its reporting while avoiding an actual Kelly endorsement.
Post reporters defending their story, which was based on interviews with 16 (yes, 16) sources.
On Meet the Press Sunday morning, Trump trade adviser Peter Navarro went farther than his boss in defending Kelly, claiming that the chief of staff still "has the confidence" of the president.
"You read stuff in the Washington Post, frankly that's fake news most of the time," Navarro said, to Chuck Todd's consternation.
(Why Navarro has the authority or knowledge to comment on personnel matters is a mystery. It's the same kind of Trump White House role-scrambling that led Treasury Secretary Stephen Mnuchin to weigh in on neo-Nazis.)
Trump's nonendorsement endorsement signifies very little about Kelly's future, given that the president has pulled similar tricks with multiple now-former staffers. For example, he denied that National Security adviser H.R. McMaster was in danger of losing his job and even told him he was doing a "great job" three weeks before getting rid of him.
The president is even more enthusiastic about another embattled official: Scott Pruitt. On Saturday night, Trump tweeted his enthusiasm for the EPA Administrator, who is facing multiple ethics-related scandals.
While even this level of ardor does not guarantee job security, Trump's tepid feelings toward Kelly may well be the kiss of death.