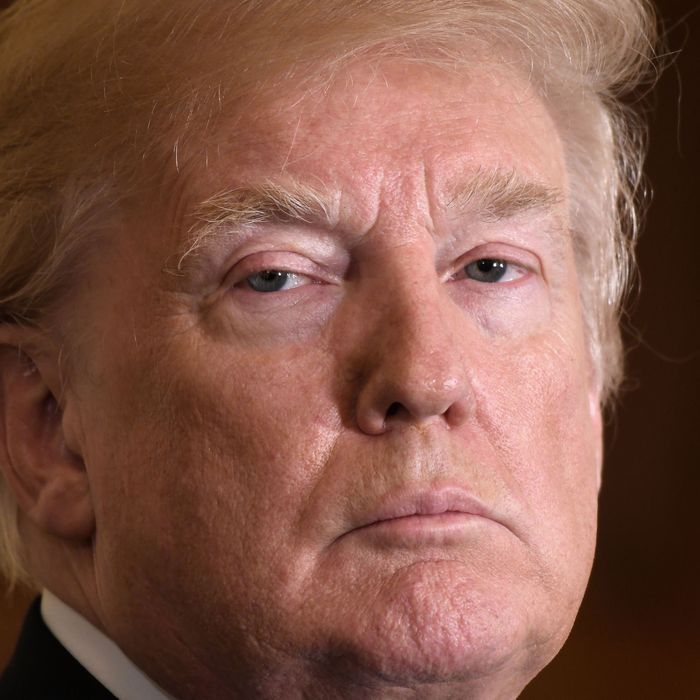 Photo: Olivier Douliery/AFP/Getty Images
Axios editor Mike Allen is a consummate Establishmentarian who has spent his career laboring to win the approval of elites in both parties. Yesterday, Allen published a column headlined "The case for extreme worry." His observations are, indeed, quite worrying. "Checks are being ignored or have been eliminated, and critics purged as the president is filling time by watching Fox, and by eating dinner with people who feed his ego and conspiracy theories, and who drink in his rants," he notes. "Trump's closest confidants speak with an unusual level of concern, even alarm, and admit to being confused about what the president will do next — and why."
It would be a mistake to overstate the change at hand. The Trump presidency has been a slow-moving freakout, every new episode representing a surreal extension of the unknown. Still, there is evidence that the chaos has increased in some important new way. After many members of the administration seemed to convince themselves last year that they had gained some control over their erratic chief executive, they see him slipping the restraints.
Here are some examples from the last 24 hours:
1. The Wall Street Journal reports that the White House staff has attempted to correct Trump's mistaken beliefs about Amazon, to no avail. Staffers a "arranged private briefing" that "they believed debunked his concerns that Amazon was dodging taxes and exploiting the U.S. Postal Service." But Trump continued to directly contradict what he had learned because, a source explains, "It's not the narrative he wants."
2. The Associated Press reports that Trump has grown tired of his chief of staff's management, but also has not seen fit to fire him outright. Instead, "Trump recently told one confidant that he was 'tired of being told no' by Kelly and has instead chosen to simply not tell Kelly things at all."
Of course, Trump is the president of the United States, and as such, outranks Kelly. Presumably he could keep his chief of staff informed of his doings, and overrule Kelly's objections if he disagrees.
3. Trump's advisers, despairing of their inability to educate the president, have taken to using television as the preferred vehicle for their tutelage. The Washington Post reports that Jeanine Pirro's Fox News program is the show of choice for this purpose. "Aides sometimes plot to have guests make points on Fox that they have been unable to get the president to agree to in person. 'He will listen more when it is on TV,' a senior administration official said." Pirro duty is considered important enough that "officials rotate going on Pirro's show because they know Trump will be watching — and partially to prevent him from calling in himself."
4. Another report in the Associated Press describes Trump ranting uncontrollably in a meeting with military brass. "The president had opened the meeting with a tirade about U.S. intervention in Syria and the Middle East more broadly, repeating lines from public speeches in which he's denounced previous administrations for 'wasting' $7 trillion in the region over the past 17 years," the report notes. At one point, a general interjected to inform Trump "that his approach was not productive and asked him to give the group specific instructions as to what he wanted."
Should we be scared that the president is unable to focus or learn or even adopt a coherent management structure? Yes, we probably should.