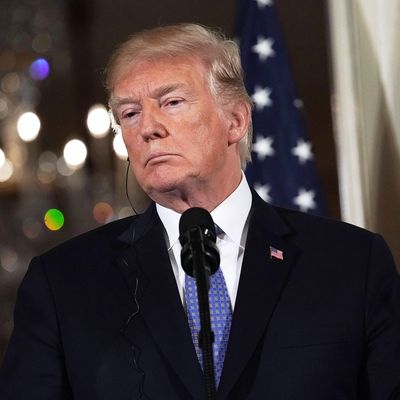 Just a bit thin-skinned.
Photo: Alex Wong/Getty Images
As many right-minded journalists agree, the White House Correspondents' Dinner is an embarrassing relic, a conflict-of-interest orgy where journalists who are meant to challenge the powerful hobnob with them instead. As the Washington Post's Margaret Sullivan put it over the weekend, in the wake of predictable controversy over comedian Michelle Wolf's brutal-but-fair roast on Saturday night: "It never has been a particularly good idea for journalists to don their fanciest clothes and cozy up to the people they cover, alongside Hollywood celebrities who have ventured to wonky Washington to join the fun. But in the current era, it's become close to suicidal for the press's credibility."
President Trump also wants to kill off the White House Correspondents' Dinner. Granted, his justification for doing so is slightly different than that of concerned media professionals; he simply doesn't enjoy being made fun of.
Trump still apparently nurses a grudge from the 2011 dinner, when Barack Obama and Seth Meyers mercilessly skewered him, possibly to the point of inspiring him to run for president to prove his haters wrong. Now as then, Trump shares a Soviet authoritarian's aversion to mockery, which is a prime reason he has not attended the event as president. On Sunday, he suggested that if there is a dinner next year, it should be hosted by Fox News' Greg Gutfeld. This would no doubt be a laugh riot, if you're into "jokes" about the president triumphing over politically correct college students.
But hey, maybe it doesn't matter how the president came to his correct conclusion that the dinner should be scuttled altogether. As was true in high-school algebra, the important thing is not the route one travels to arrive at the correct answer. It's that one gets there at all.