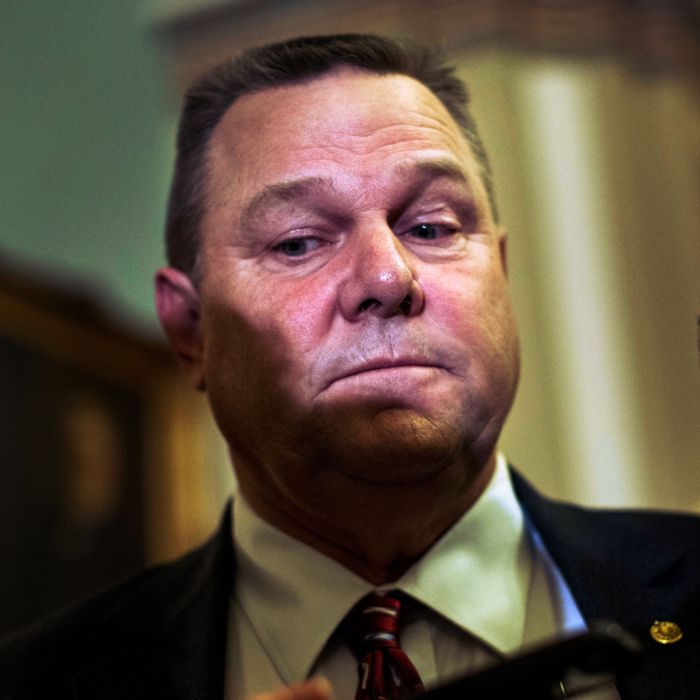 Brace for more tweets.
Photo: Melina Mara/The Washington Post/Getty Images
President Trump has zeroed in on a person to blame for Ronny Jackson's failed bid to become Veterans Affairs secretary, and it isn't Ronny Jackson, or, you know, himself. Instead, he's focusing his ire on Montana senator Jon Tester, a Democrat who faces a difficult reelection battle this fall in a state that voted for Trump by more than 20 points.
Election-year politics aside, this makes little logical sense. Tester is the ranking Democrat on the Senate Committee on Veterans Affairs. As Jackson's confirmation hearings neared, Tester was approached by what he said were more than 20 people, who claimed that the doctor had engaged in inappropriate behavior in recent years, which ranged from handing out Ambien to staffers on a White House plane to creating a generally toxic work environment to crashing a car while under the influence of alcohol. Tester signed a statement with his Republican counterpart, Georgia senator Jonny Isaakson, demanding that the allegations be investigated.
Many of these accounts were also corroborated by media outlets.
Once the allegations became public, Jackson fell into deep trouble on both sides of the aisle. As it became clear that he lacked 50 votes to proceed, he announced on Thursday that he would be withdrawing from the confirmation process.
The White House said on Friday that after conducting a review, it had found no evidence that Jackson had ever crashed a car. This discrepancy is the basis for Trump's assertion that Jackson is innocent of all charges, or, as he put it on Friday, an "American hero."
Allegations aside, Jackson was clearly not fit to lead a sprawling federal agency. His central qualification was having served as Trump's personal physician — a role he had played in three different White Houses — and raving about Trump's incredible health on TV, North Korean style. (The White House is keeping him on in his previous role.) As is not-atypical in the chaotic Trump White House, Jackson was not vetted in any real way. Yet there's a good chance he would have survived his confirmation hearings if not for the allegations of personal impropriety, which any other White House likely would have been aware of before selecting him.
In other words, the White House created an eminently avoidable problem, and now wants to pretend it's nefarious, Trump-hating Democrats who caused it.
Tester, for his part, seems ready to face Trump's wrath.
"If he thinks it's my job to sweep his stuff under the table and ignore our military folks, he's wrong," he said on Thursday, after the president had already indicated his displeasure with the senator. "If he thinks I should not be sticking up for veterans, he's wrong. I look forward to working with President Trump. I've worked with him many times in the past, but we disagree."