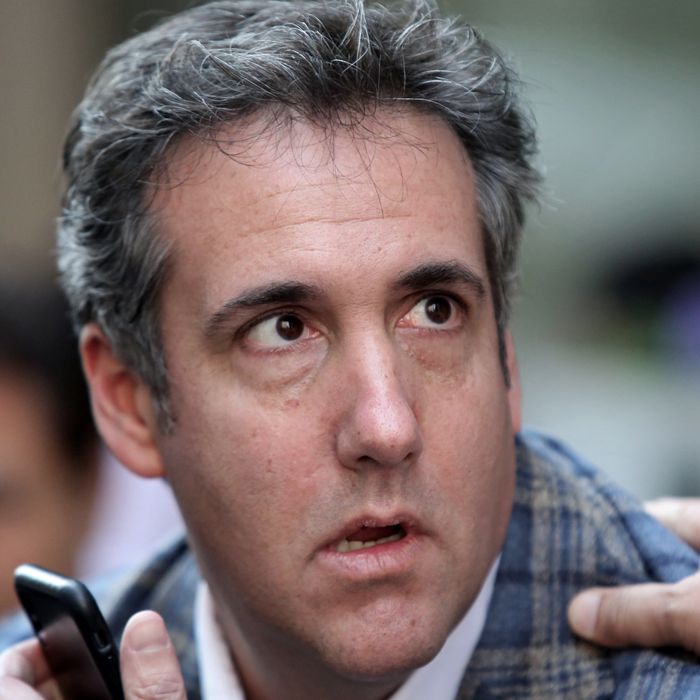 Who do you trust, the feds or this guy?
Photo: Yana Paskova/Getty Images
President Trump's attorneys sided with his longtime lawyer/fixer Michael Cohen against federal prosecutors in a filing on Sunday night, arguing that they should be allowed to review materials seized from Cohen's home, office, and hotel room before government investigators.
Though President Trump declared after last week's raids that "attorney-client privilege is dead," there's actually a higher bar for obtaining a search warrant that might scoop up privileged materials. After the search, a separate group of prosecutors, known as a "taint team," is brought to review the collected materials and make sure the primary investigators never see information that falls under attorney-client privilege.
The filing asks​ a Manhattan federal judge to block the taint team's review until Trump, Cohen, and their attorneys can go over the documents to remove "materials over which the president asserts privilege." Trump has regularly accused top Justice Department officials of working to undermine him, and his lawyers essentially argue that the government's taint team can't be trusted. The filing says that federal prosecutors' previous statements – specifically that Cohen is performing little actual legal work and thus has few protected communications – indicate "a disinclination to find privilege, a bias that virtually guarantees that there will not be a fair privilege review of the seized materials."
The president's team suggests that any disputes over what material is covered by privilege be decided by a judge.
Cohen has been ordered to appear at a hearing on Monday afternoon, in which he is expected to disclose how many clients he has and how many seized documents he believes may be privileged. Stormy Daniels, who says she received $130,000 from Cohen to keep quiet about an affair with Trump, is also expected to be in attendance.
While Trump has dismissed the Cohen raid as part of a "witch hunt" perpetrated by Special Counsel Robert Mueller, court filings last week revealed that U.S. attorneys in Manhattan have been investigating him for months, and a grand jury has been hearing evidence in the case. He's reportedly under investigation for potential bank and wire fraud, and other crimes that may have been committed as part of his alleged pattern of paying off people making damaging claims against Trump.