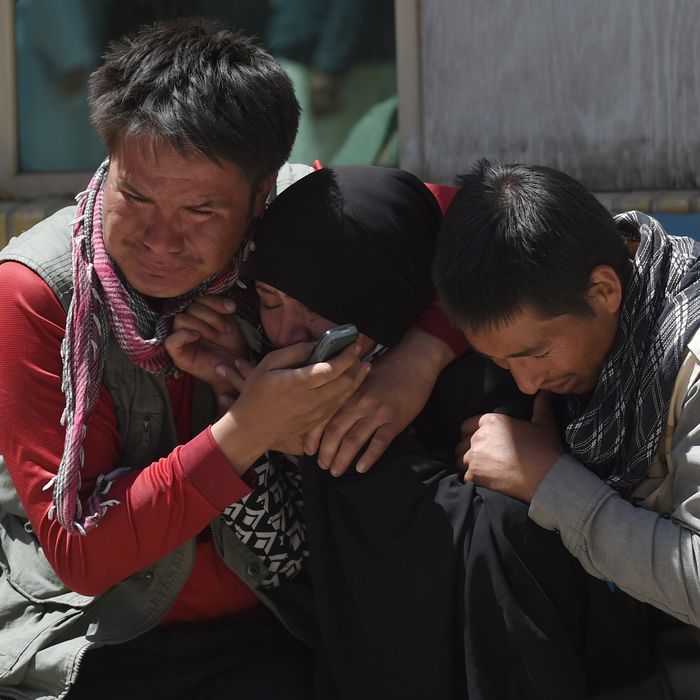 Kabul residents mourn after a suicide bombing at a hospital on April 22, 2018.
Photo: Wakil Kohs/AFP/Getty Images
Two suicide bombings in Kabul killed 29 people in the Afghan capital on Monday morning. Journalists rushing to cover the first explosion were killed by a second bomber posing as a cameraman. Another 45 people were injured in the blasts.
The first explosion came at 8 a.m. local time in the Shashdarak area of the city, where the U.S. embassy and government buildings are located. According to the Washington Post, it followed a pattern of twin blasts meant to draw people to the area, then inflict more damage with he second bombing.
The Afghan Journalists Safety Committee said seven journalists were killed in the attack, including cameramen for TOLO TV and TV 1, two Afghan news organizations. Agence France-Presse said its chief photographer in Afghanistan, Shah Marai, was among the dead as well.
Marai began working at AFP as a driver in 1996 and rose through the ranks to become the bureau's top photographer. In 2016, before the birth of his sixth child, he penned an essay on the anxieties of living in Kabul as the Taliban attempts to return to power. Marai wrote:
But there is no more hope. Life seems to be even more difficult than under the Taliban because of the insecurity. I don't dare to take my children for a walk. I have five and they spend their time cooped up inside the house. Every morning as I go to the office and every evening when I return home, all I think of are cars that can be booby-trapped, or of suicide bombers coming out of a crowd. I can't take the risk. So we don't go out. 
Six weeks ago there were reports that some in the Taliban wanted to reach a peace settlement with the Afghan government, but since then there's only been an uptick in violence. A little over a week ago a suicide bombing outside a voter-registration center killed 57 people and wounded 100 more.
ISIS claimed responsibility for that attack, and its strategy involves killing civilians. Taliban militants just announced their spring offensive last week, but they have said they would target Afghan and foreign security forces rather than civilians. So far no group has claimed responsibility for Monday's attack.