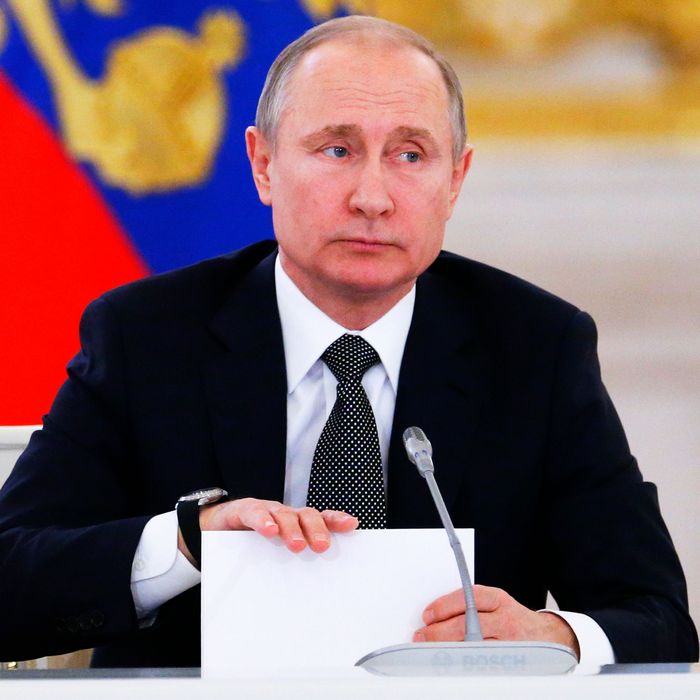 Russian president Vladimir Putin.
Photo: Alexander Zemlianichenko/AFP/Getty Images
The Trump administration on Friday announced a new round of sanctions targeting some of Vladimir Putin's closest allies in order to punish Russia's "ongoing and increasingly brazen pattern of malign activity around the world," a senior administration official told reporters.
All told, seven Russian oligarchs, 12 companies they own, and another 17 Russian government officials are targeted by the sanctions, which freeze assets held in the U.S. and ban Americans from doing business with those named. Among the sanctioned are Putin's ex-son-in-law, his former bodyguard, and Alexander Torshin, the National Rifle Association's best friend in Russia.
"The Russian government operates for the disproportionate benefit of oligarchs and government elites," Treasury Secretary Steven Mnuchin said in a statement. "Russian oligarchs and elites who profit from this corrupt system will no longer be insulated from the consequences of their government's destabilizing activities."
The sanctions are not related to any single act by Russia, Mnuchin said, but rather a response to its actions in Crimea and Syria, along with its election meddling in the U.S. and the poisoning of a former spy in the U.K.
Slapping sanctions on his rich friends is seen as a uniquely effective way to rattle Putin, the Times reports.
While Russia's oligarchs make nearly all of their money in Russia, many stash their families, lovers and much of their wealth in places like London, New York and Miami.




Targeted sanctions against the oligarchs are seen as a particularly good way to punish Mr. Putin's aggressive moves while sparing wider Russian society, which is already suffering under Mr. Putin's thumb.
Kremlin spokesman Dmitry Peskov was asked about the possibility of these sanctions on Thursday. He didn't address the economic punishment, focusing instead on the terminology: "The phrase 'Russian oligarchs' is considered inappropriate," he told reporters. "The time when there were oligarchs in Russia passed long ago. There are no oligarchs in Russia."