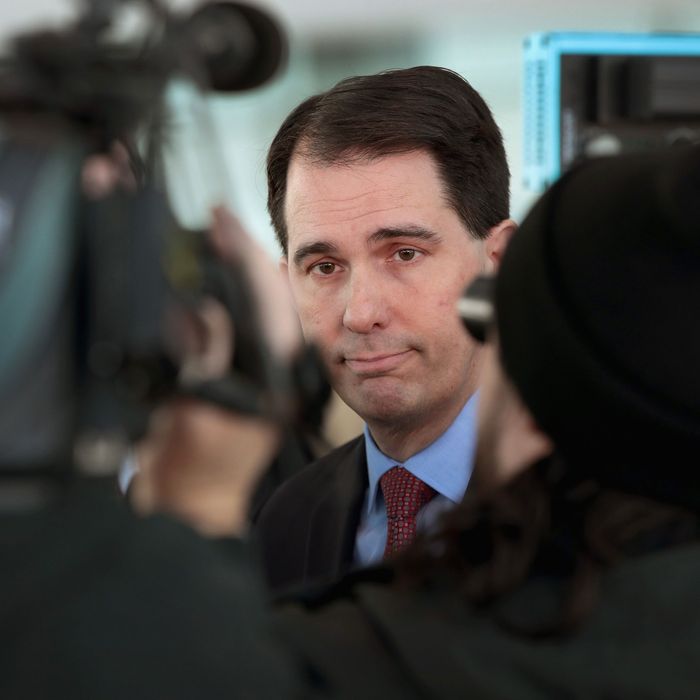 Could the end finally be near for Scott Walker's tenure as governor of a once-blue state?
Photo: Scott Olson/Getty Images
Yesterday's landslide win for progressive (and Democratic-backed) Wisconsin Supreme Court candidate Rebecca Dallet may be dismissed by some observers as the product of a low-turnout special election with no particular implications for the November midterms, when Governor Scott Walker is on the ballot and the massive money and mobilization effort he has generated in the past is in play. But Walker himself is not exactly exuding confidence:
It's the startling double-digit margin of Dallet's win that's setting off alarm bells among Wisconsin Republicans. Yes, turnout in November will likely more than double yesterday's million-voter performance (though it did significantly exceed average turnout in Wisconsin's traditional spring Supreme Court elections). But it's a combination of mobilization and persuasion that seems to have produced Dallet's big win:
And the results end a pretty impressive Wisconsin winning streak for the GOP, featuring Walker's 2014 reelection by more than a five-point margin, and then in 2016, Senator Ron Johnson's comeback win over Russ Feingold and Trump's shocking victory in a state that hadn't gone Republican in a presidential election since Reagan's 49-state wipeout in 1984. Indeed, as conservative blogger Allahpundit noted, Wisconsin Republicans have lost a lot of ground in the last year:
Last year Wisconsin Republicans practically ruled America: Reince Priebus was in charge in the White House, Paul Ryan was in charge in the House, and Scott Walker was a three-time gubernatorial winner in an important purple state. A year later Priebus is long gone, Ryan's the subject of endless rumors that he's on his way into retirement if Dems flip the House this fall, and Walker's banging the drum warning that a Democratic landslide could bury him.
A lot could change between now and November, and Walker has survived adverse political developments before. But he's not invincible, as evidenced by his ignominious withdrawal from the 2016 presidential contest long before the first vote was cast. 2018 could be the year when his and his party's remarkable run of luck in Wisconsin just runs out.