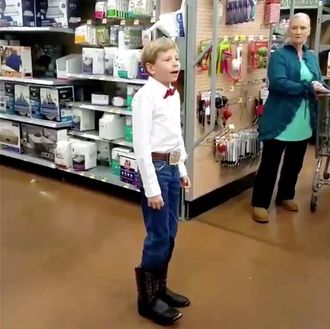 Mason Ramsey, the 11-year-old crooner who captured hearts and minds by singing in a Walmart, is already taking advantage of his newfound celebrity. Ramsey is headed to Coachella today, where he'll perform with Whethan, who TMZ describes as an "up-and-coming DJ." Yeah, an up-and-coming DJ riding the coattails of a sweet, yodeling child.
Whethan tweeted about his stunning likeness earlier this month:
The duo is set to hit the stage with Ramsey at around 5:45 p.m. eastern time, and if you'd like, you can catch a pre-taped version on the livestream around 8:15 p.m.
Post Malone is also reportedly trying to get Ramsey to collaborate during his set, but that's tomorrow night, when Mason is scheduled to perform at the Grand Ole Opry.