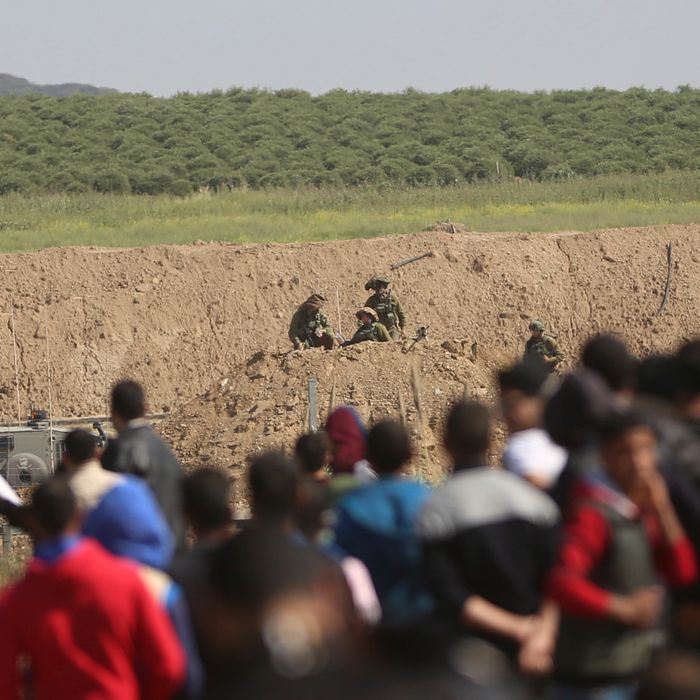 Palestinians gather during a protest near the Gaza Strip border with Israel, in eastern Gaza City on Saturday.
Photo: Khalil Hamra/AP
At least 15 Palestinians are dead and hundreds more injured after Israeli troops fired on demonstrators taking part in a large-scale border protest in Gaza on Friday. It was the deadliest day for the Israeli-Palestinian conflict since the last Israeli war in Gaza in 2014, and the violence could escalate dramatically in the coming days and weeks.
Some 30,000 Gazans amassed along their side of the border on Friday for the first day of the "Great March of Return," a heavily promoted six-week protest over Palestinians' inability to return to their ancestral homes in what is now Israel. Most of the attendees protested peacefully at encampments hundreds of meters from the border, which is well protected by armed Israeli forces. But large crowds of mostly young men inevitably ventured closer, resulting in clashes. Those demonstrators mostly hurled rocks, but some threw Molotov cocktails and rolled burning tires at the border fence. The IDF forces fired back, using tear gas as well as bullets.
According to the Israeli government, 17,000 Palestinians were rioting in six parts of the Gaza Strip on Friday, and its troops were forced to repel militants and would-be invaders at the border fence, and only took action in accordance with their rules of engagement. They say the demonstration is no peaceful protest at all, but a staging ground for attacks and "a well-organized and violent terror-gathering," as described by Israel's UN ambassador, Danny Danon. The Israeli military claims that some of Friday's protesters fired on Israeli troops, and they insist they only fired back on the "main instigators" of the violence, and that most of the dead were fighters from Hamas or other militant groups. (Hamas says only five of the dead were members of its armed wing.)
The UN and human rights groups in both Israel and Gaza are now calling for an investigation into the deaths, as are some family members of those killed — but Israel's defense minister said on Sunday that there wouldn't be one.
An Israeli blockade of Gaza has been underway ever since Hamas won political control of the 140-square-mile enclave. Egypt later joined the blockade, cutting off Gaza even more and resulting in a ever-worsening humanitarian crisis.
Israel is very worried about the new demonstrations. The military had doubled its presence along the 40-mile border in preparation for the start of the protests, which were encouraged by Hamas. Israeli officials had warned Palestinians to stay far away from the border fence, or skip the protest altogether, but organizers were nonetheless able to bus in tens of thousands of demonstrators, including families, to the encampments along the border on Friday. After six weeks of protests, organizers plan to hold a mass march toward the fence on May 15, the day Palestinians commemorate the anniversary of Israel's declaration of independence and the resulting war which led to hundreds of thousands of Palestinians fleeing their homes. They call that event the Nakba, or catastrophe.
Israel is undoubtedly very concerned about any large-scale final march toward the border, let alone one that may have followed numerous cycles of violence in Gaza.
And tensions could be much, much higher by May 15, as it will also be one day after the U.S. says it will have officially moved its embassy to Jerusalem — a Trump administration plan which has enraged Palestinians and effectively ended U.S. involvement in any peace process, though the State Department says the U.S. is "deeply saddened" by violence on Friday.
Fewer Palestinians came to protest along the border on Saturday, but as many as 70 people were still injured by Israeli fire in new clashes, according to Palestinian health officials. Thousands of Gazans attended funerals for those killed on Friday, as well. On Sunday, the protest had waned to just hundreds of people in the encampments, but crowds are expected to swell again next Friday.
After Friday's clashes, an IDF spokesman warned that the violence is likely to continue until May 15, and he threatened to send troops over the border if the situation escalates. If that invasion happens, it would mark the fourth war in Gaza in a decade.
This post has been updated to include the state of affairs on Sunday.