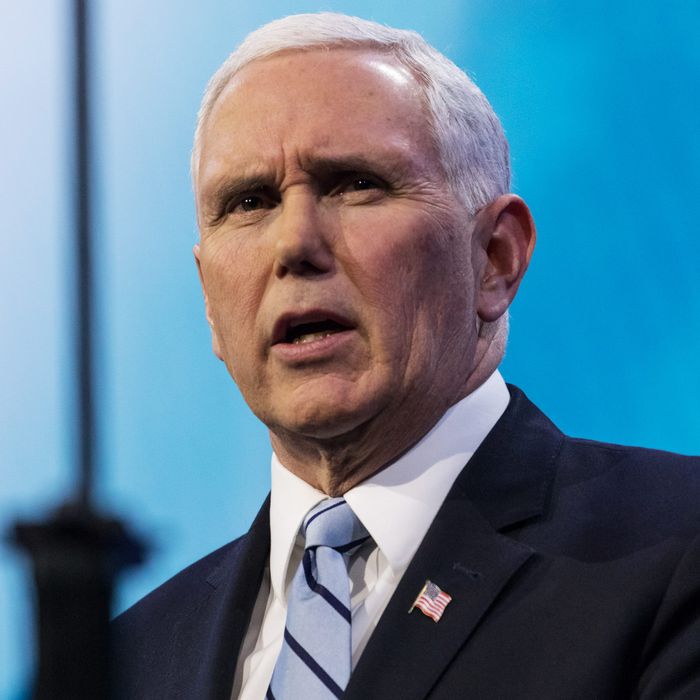 Vice-President Mike Pence.
Photo: Cheriss May/NurPhoto via Getty Images
A Republican pollster who helped run commercials attacking President Trump during the 2016 Republican primaries withdrew from his position advising Vice-President Mike Pence after President Trump expressed outrage over his appointment.
The episode is an illustration of the fact that while President Trump may be incoherent on matters of policy and, at times, basic speech, he still retains the memory of a vengeful elephant.
Jon Lerner was originally supposed to divide his time between counseling Pence on national security and working with U.N. Ambassador Nikki Haley, for whom he has been an adviser for years. But when Trump got wind of the agreement, he became furious. (Or more furious than usual.)
As Axios reported Sunday evening:
The President believed Lerner was a card-carrying member of the "Never Trump" movement because Lerner crafted brutal attack ads for Club for Growth's multimillion-dollar anti-Trump blitz during the Republican primaries.




"Why would Mike do that?" Trump wondered aloud about Pence's decision, according to two sources briefed on the President's private conversations.
Trump demanded Pence boot Lerner, but after Pence got the president on the phone to calm him down, it seemed that the vice-president would prevail in this internecine squabble.
But just hours later, Lerner stepped down, or "stepped down."
"Tonight, Jon informed the vice president that he was withdrawing from coming on board as national security adviser, and the vice president accepted his decision," Pence's press secretary said on Sunday night. Lerner will continue in his role with Haley.
It didn't help that others in the White House were unconvinced of Lerner's foreign-policy credentials and worried that he wouldn't be able to handle two jobs at once.
But this is almost certainly, at its heart, another story about the president's wafer-thin skin.