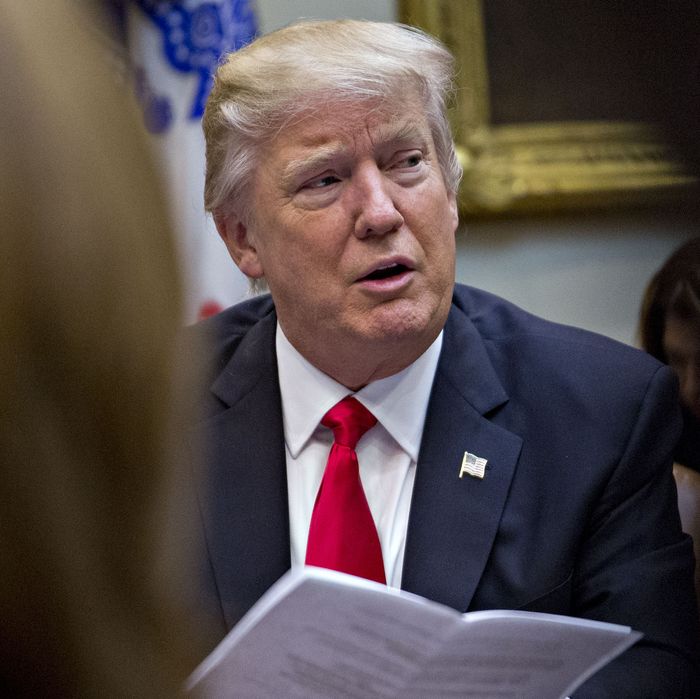 Why isn't everyone else worried about the caravans?
Photo: Andrew Harrer/Bloomberg via Getty Images
In a series of tweets over the past two days, President Trump complained about people entering at the southern border to take advantage of the Deferred Action for Childhood Arrivals program (which isn't how DACA works), raised concerns about "caravans" of Central Americans storming across the border (which isn't what they're up to), and generally exposed that he doesn't understand the immigration debate.
Initially it seemed this tirade was inspired by Fox & Friends, which is usually a safe assumption, but on Monday the Washington Post reported that it was actually brought on by a heady cocktail of Fox News, socializing with immigration hard-liners Stephen Miller and Sean Hannity over Easter weekend, and a briefing last week from Homeland Security Secretary Kirstjen Nielsen, who had just returned from a meeting with top officials in Mexico.
In an effort to combat the idea that Trump's tweets were merely more semi-coherent ramblings, the White House held a conference call with reporters on Monday to outline its new legislative push on immigration. But as CNN reports, the laundry list of tough immigration policies they highlighted on the call was essentially what they've been unsuccessfully pursuing for months. These proposals included changing the law that protects unaccompanied minors entering the country so they can be deported more quickly, limiting the number of people who can apply for and be granted asylum, and changing "catch and release" policies to allow families to be detained for longer periods of time while waiting for decisions on their immigration status.
According to the New York Times, one administration official said the goal of these policies was partly to address the backlog of hundreds of thousands of immigration cases, which can lead to undocumented immigrants living in the U.S. for years as their case works its way through the legal system.
The Trump administration did take one concrete step toward this goal on Monday. The Justice Department has notified immigration judges that as of October 1, their job performance will be evaluated by how quickly they close cases. To earn satisfactory marks, they will have to complete 700 cases per year, while over the past five years, the average judge has completed only 678 cases per year.
Immigration judges work for the Executive branch, unlike regular judges, but they are still supposed to be independent. Judge A. Ashley Tabaddor, president of the National Association of Immigration Judges, said the new quota system may be challenged in court.
"It could call into question the integrity and impartiality of the court if a judge's decision is influenced by factors outside the facts of the case, or if motions are denied out of a judge's concern about keeping his or her job," Tabaddor said.
Even if such administrative changes aren't reversed by the courts, Trump has still made little progress on one of his biggest campaign promises. He's faced pressure from the right for not following through on his threat to veto the $1.3 trillion spending bill, which did not include border wall funding. However, White House officials pushed back on the idea that Trump's base is disenchanted, noting that they secured funding for 100 miles of new and replacement border fencing (out of a 2,000-mile border) and are preparing a new immigration push in Congress.
"DHS is working on another legislative package, obviously we've been talking about this for many months now, including when we sent the immigration priorities over to Congress back in October that would basically close these loopholes so we can have a lawful immigration system and save a lot of lives on both sides of the border," one official said.
For the time being, Trump supporters will probably have to settle for more belligerent immigration rhetoric emanating from the president and his aides. If there's one thing Republicans in Congress don't want to do months before the midterms, it's work to make Americans pay for Trump's highly controversial border wall.