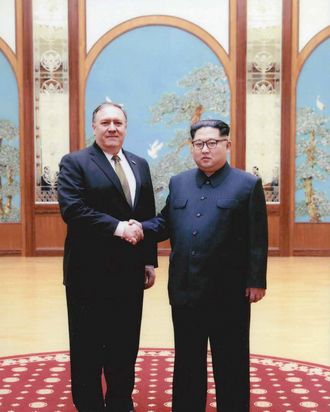 Mike Pompeo and Kim Jong Un.
Photo: The White House
The White House on Thursday released photos from this month's meeting between North Korean leader Kim Jong Un and recently sworn-in Secretary of State Mike Pompeo. The pictures show the similarly shaped men shaking hands during Pompeo's secret trip to North Korea over Easter weekend.
On Thursday morning, during his stream-of-consciousness rant on Fox & Friends, Trump filled in some missing details about the meeting. The sit-down lasted for more than an hour, Trump said, and came together at the last minute. "He wasn't supposed to meet with Kim Jong Un, but he did," Trump said.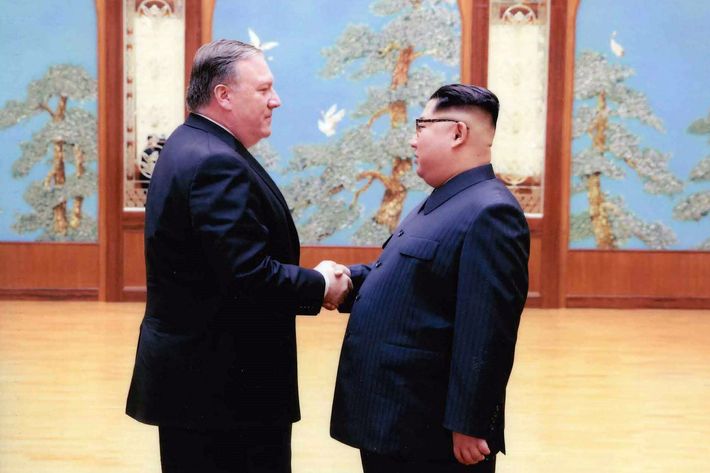 "They got along," Trump added. "They spoke, and [Pompeo] also spoke with his counterparts in North Korea. They had a great meeting. He then left. It was very, very secret. Very, very quiet." Trump did not mention any topics discussed during the meeting, but it was previously reported that Pompeo raised the issue of three Americans who are currently imprisoned in North Korea.
In a press conference last week with Japanese president Shinzo Abe, Trump said the U.S. is currently "negotiating" the release of the Americans.
Previous American prisoners in North Korea have been treated harshly, most recently Otto Warmbier, the 22-year-old who died last year after he was released from a Pyongyang prison. On Thursday, Warmbier's parents sued North Korea in federal court, accusing Kim's regime of taking their son hostage, torturing him and killing him.
Arrested in 2016 for attempting to steal a propaganda poster from a hotel, Warmbier spent 17 months in a North Korean prison before he returned home last June. He was in a coma when he arrived in the U.S. and North Korea shirked responsibility, saying he contracted botulism after taking a sleeping pill. "North Korea has repeatedly lied about the causes of Otto's condition and refuses to acknowledge its abhorrent actions," the suit says.
Cynthia and Frederick Warmbier are seeking damages to be determined by the court and also, Frederick said in a statement, to hold Kim accountable. "Kim and his regime have portrayed themselves as innocent, while they intentionally destroyed our son's life," he said. "This lawsuit is another step in holding North Korea accountable for its barbaric treatment of Otto and our family."
The suit shines a light on Kim's human-rights abuses at a key moment in U.S. relations with North Korea, and it does not paint a pretty picture of how the regime treats its prisoners.
"Otto was blind and deaf," when he returned to the U.S., the suit says. "He had a shaved head, a feeding tube coming out of his nose, was jerking violently and howling, and was completely unresponsive to any of [his parents] efforts to comfort him."
After examining him, doctors found "an extensive loss of brain tissue," a "scarred wound" on his foot, and teeth that had been forcibly misaligned inside his mouth. The White House reportedly supports the lawsuit, but did not coordinate with the Warmbiers.