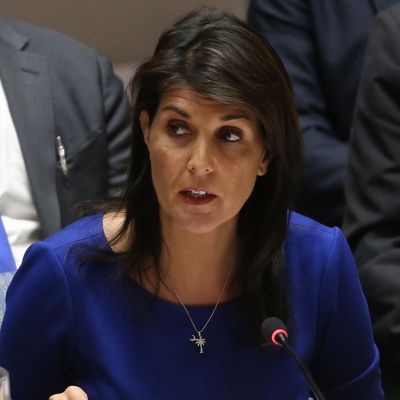 Excuse me?
Photo: Anadolu Agency/Getty Images
Sunday on Face the Nation, U.N. Ambassador Nikki Haley described economic sanctions aimed at Russian companies that support Syria's chemical-weapons program, which she said would be unveiled the following day. However, that announcement never came. On Monday, White House press secretary Sarah Huckabee Sanders said, "We are considering additional sanctions on Russia and a decision will be made in the near future."
It appeared that President Trump had once again bucked the plans of his national security team and, for whatever reason, backed off on a plan that would have angered Vladimir Putin. But instead of offering that explanation, the White House tried to blame Haley. One anonymous administration official told the Washington Post that Haley got ahead of herself and made "an error that needs to be mopped up." Another said there had been confusion within the White House about what the plan was.
Then on Tuesday afternoon, chief White House economic adviser Larry Kudlow denied that the misstatement was the result of chaos in the White House, suggesting it was solely Haley's blunder.
"She got ahead of the curve. She's done a great job, she's a very effective ambassador. There might have been some momentary confusion about that," he told reporters. "But if you talk with Steve Mnuchin at Treasury and so forth, he will tell you the same thing — they're in charge of this — we have had sanctions. Additional sanctions are under consideration but not implemented."
Haley wasn't having it. "With all due respect, I don't get confused," she told Fox News' Dana Perino, in a statement that was read on-air Tuesday evening.
For now her rebuke of the White House worked. Kudlow called Haley to apologize and admitted he was mistaken in a statement to the New York Times. "She was certainly not confused," Kudlow said. "I was wrong to say that — totally wrong."
He added: "As it turns out, she was basically following what she thought was policy. The policy was changed and she wasn't told about it, so she was in a box."
It's not clear when or why that change occurred. Three senior administration officials told Politico that Trump approved the sanctions last week, and they were mentioned in talking points distributed by the Republican National Committee on Sunday.
"Russia sanctions were a part of the agreed-upon plan going into the strike and going into the weekend," said one of the officials. "As recently as Saturday, that was reconfirmed as part of the plan."
The Washington Post reported that later on Sunday Trump conferred with his national security advisers and said he was upset by the planned rollout because he still wasn't comfortable with executing the sanctions. According to the New York Times, he grew angry and yelled at the TV during Haley's appearance, as he believed he hadn't approved any new sanctions.
It's rare for a Cabinet official to openly contradict the White House, and it's unclear what effect that might have on Haley's relationship with Trump. It certainly underscores the idea that nothing White House officials say should be believed until it's actually happening.
"How many other things do you want to mention have been rolled out that way?" Senate Foreign Relations Committee chairman Bob Corker told reporters Tuesday. "I didn't think much about it. You know, two weeks ago, we're moving out of Syria the next day, and then the next day we weren't. It's just sort of standard confusion."