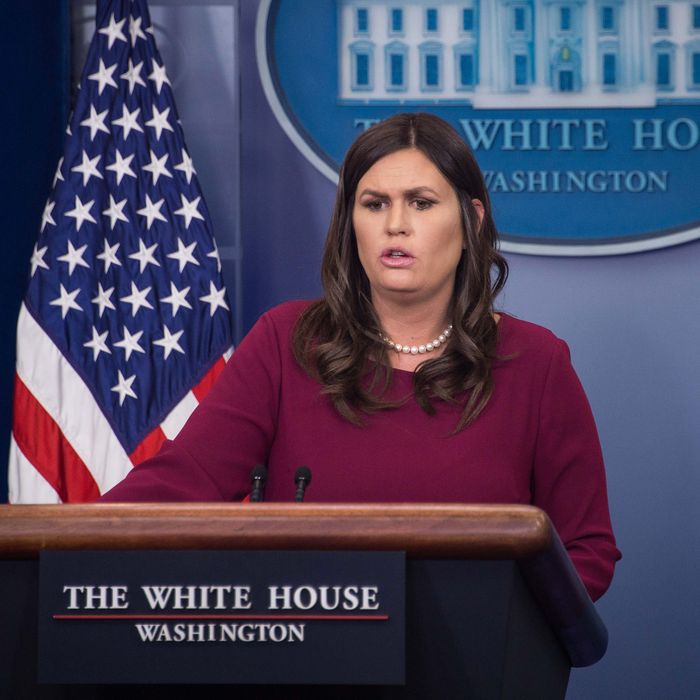 What the Huck?
Photo: Nicholas Kamm/AFP/Getty Images
Most legal experts have assumed that Donald Trump does not have the power to unilaterally fire Special Counsel Robert Mueller. On Tuesday afternoon, the White House announced that Trump has made the opposite assumption.
Asked whether the president believes he has the authority to send Mueller packing, White House press secretary Sarah Huckabee Sanders replied, "He certainly believes he has the power to do so." When an incredulous reporter asked if this meant that the White House rejected the idea that only the highest-ranking Justice Department official (who hasn't recused himself from the Russia investigation) has that power, Sanders said only, "We've been advised that the president certainly has the power to make that decision."
If this statement is accurate — and if the legal advice it describes was provided to the president in recent days or weeks — then the odds of Trump ousting Mueller are much higher than previously understood.
It's never been clear that Trump would derive much benefit, politically or legally, from firing Mueller. Chopping off the head of the special investigation into his campaign and Russia would not kill that probe, or at least not immediately. At present, there are 17 federal prosecutors working in the special counsel's office. To put an end to all of their work, Trump would need to install a new attorney general ready and willing to sabotage the entire office. And even if such an effort succeeded, it would kick off a blizzard of damaging leaks (and, potentially, state-level prosecutions) that would dog the president and his party in this year's midterm elections, and beyond.
But if Trump has the power to unilaterally fire Mueller on a whim, it's conceivable that none of this would matter: The president has proven himself more than capable of making irrational decisions in a fit of outrage; in fact, it was precisely such a decision that birthed the Mueller probe in the first place. Thus, the key to Mueller's survival has ostensibly been the immense procedural difficulty of removing him. Under conventional assumptions, Trump would need either to fire Jeff Sessions and unilaterally replace him with a crony by weaponizing the Federal Vacancies Act — or else, fire his way down the Justice Department's depth chart until he finds a deputy attorney general willing to kneecap the special counsel.
But if the president has come upon a legal theory that allows him to fire Mueller himself — without expending any more effort than it takes to post a single ALL CAPS tweet — then it becomes quite easy to imagine him doing so.