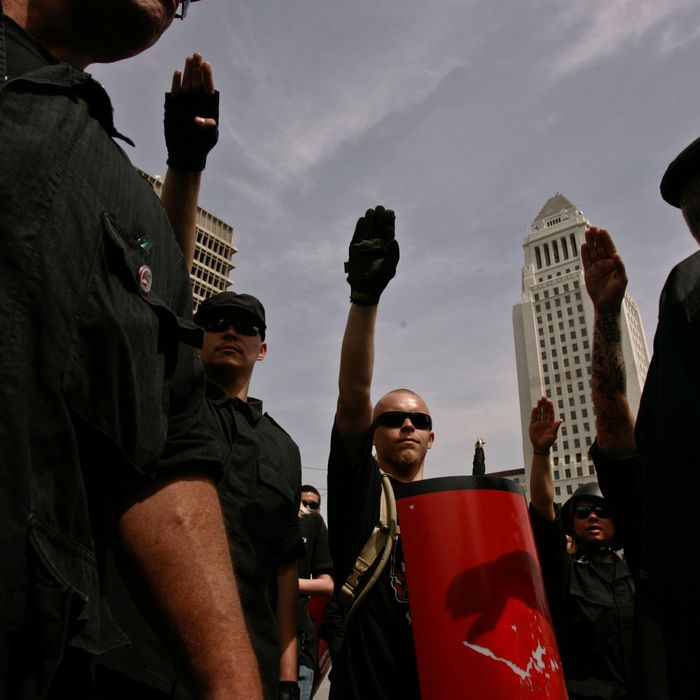 A neo-Nazi rally in Los Angeles.
Photo: Irfan Khan/LA Times via Getty Images
Stormfront, one of the internet's the original white-supremacist websites, is running out of money.
In a post surfaced by the Southern Poverty Law Center, founder and former Klansman Don Black wrote that the site does not have enough money "to cover our basic server and radio bills." In response, he's shutting down the main server and limiting access to sustaining members who donate at least $5 a month to the site.
"I appreciate everybody's support," Black wrote. "But it's that time of month again, when the big, scary bills hit. Our contributions have once again totaled less than $2,000, which is not enough to cover our basic server and radio bills, and this month we no longer have enough personal money to make up the difference."
Though its reach has diminished in recent years as competitors cropped up, "Stormfront's influence cannot be understated," the SPLC says.
For over a decade, a Stormfront account was virtually mandatory for members of the white supremacist community to network and organize.




The forum also hosted a number of users who went on to commit violence. A 2014 study by the SPLC found that in the five previous years, the members of the forum murdered nearly 100 people — including 77 murdered by Anders Breivik in Norway in 2011.
As the SPLC notes, Black has frequently struggled to pay the site's bills, which are covered by donations from readers and his wife's income. But just over two years ago, Stormfront seemed a long way from collapse. In December of 2015, Black installed new servers in response to an increase in traffic. And reason for the surge of interest in the hate-filled website? Donald Trump.