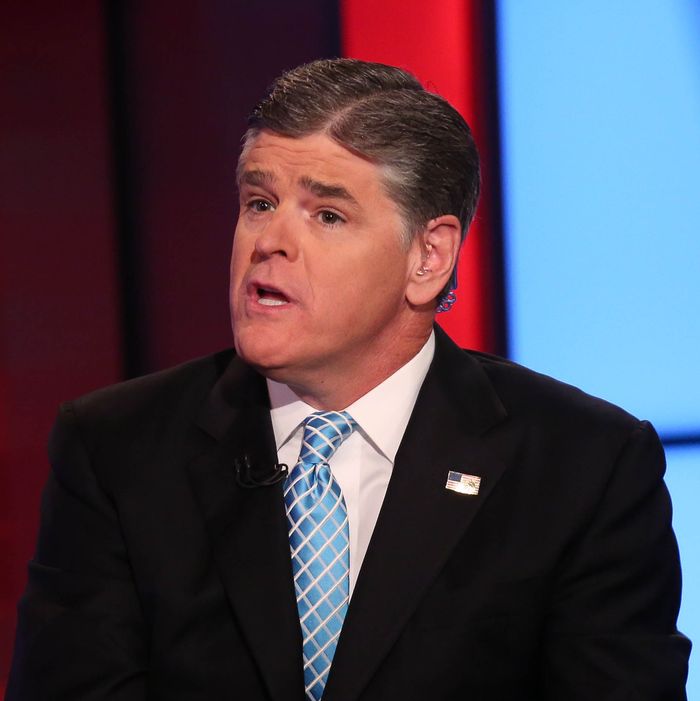 I don't report, you can't decide.
Photo: Rob Kim/Getty Images
Last Monday a judge forced Michael Cohen, President Trump's longtime fixer and attorney-sort-of-at-law, to reveal that Sean Hannity is his client. Naturally, the mainstream media was quick to denounce the Fox News host for routinely railing against the federal investigation of Cohen, without ever disclosing the nature of their relationship.
Later on Twitter and his Fox News show, Hannity set the record straight for his fans. Did Cohen ever represent him in a legal matter? No. Did he provide legal advice? Sure, they had "occasional brief conversations" about "legal questions," which "exclusively, almost, focused on real estate." And Hannity didn't pay him? Correct, he "never paid Michael Cohen for legal fees." But they both think this fell under attorney-client privilege? Yes, Hannity "assumed those conversations were confidential." Because? Hannity "might have handed him ten bucks [and said,] 'I definitely want your attorney-client privilege on this.'" So he did pay him? Well, that's really none of our business.
That's essentially Fox News' stance as well. After declining to comment on the matter for nearly a full day, the network released a statement explaining that they just don't care. Maybe that's because they have more detail on the Hannity-Cohen relationship, and agree it was "minor." Or perhaps they agree with Hannity's claim that he's a talk-show host, not a journalist, and is thus exempt from any code of journalism ethics. They did not elaborate:
While Fox News was unaware of Sean Hannity's informal relationship with Michael Cohen and was surprised by the announcement in court yesterday, we have reviewed the matter and spoken to Sean and he continues to have our full support.
But what if another outlet, let's say the The Guardian, did some digging and discovered that the real estate investments Hannity referred to were actually a secret, multimillion-dollar property empire?
Hannity's chosen investment strategy is confirmed by thousands of pages of public records reviewed by the Guardian, which detail a real estate portfolio of remarkable scale that has not previously been reported.




The records link Hannity to a group of shell companies that spent at least $90m on more than 870 homes in seven states over the past decade. The properties range from luxurious mansions to rentals for low-income families. Hannity is the hidden owner behind some of the shell companies and his attorney did not dispute that he owns all of them.
What if he bashed President Obama on-air for a situation he was benefitting from financially?
Dozens of the properties were bought at a discount in 2013, after banks foreclosed on their previous owners for defaulting on mortgages. Before and after then, Hannity sharply criticised Barack Obama for the US foreclosure rate. In January 2016, Hannity said there were "millions more Americans suffering under this president" partly because of foreclosures.
Imagine if Hannity's most valuable holdings were two Georgia apartment complexes that he bought in 2014 for $22.4 million, with help from the Department of Housing and Urban Development (HUD).
The Georgia purchases were funded with mortgages for $17.9m that Hannity obtained with help from Hud, which insured the loans under a program created as part of the National Housing Act. The loans, first guaranteed under the Obama administration, were recently increased by $5m with renewed support from Carson's department.
And Hannity failed to note this link when he interviewed Carson on his programs, even as he praised his privatization push.
"I know you've done a good job," Hannity told Carson.




Hannity complained during the discussion that home ownership in the US was at a 51-year low – a false claim he has made several times on air – and criticised the state of public housing.




"I like the idea of them owning the place," Hannity said of people who receive housing assistance. "Well, that's the real ideal," said Carson.
And Carson is now in a position to help Hannity financially.
Late last month, Hannity's mortgages were replaced with loans for $22.9m that were rewritten with Carson's Hud and a new bank. There was no indication that Carson was personally involved in the process. Carson does, however, have the authority to allow Hannity from 2019 to convert the rental complexes into condominiums for sale, which could be lucrative for the television host.
That would be pretty wild, but it's probably not the kind of thing that would interest Fox News or its viewers. Being a top political commentator (who's not a journalist) and leading Trump adviser (who doesn't work in the White House) is nice work if you can get it.
Also, real estate seems pretty lucrative.
UPDATE: Sean Hannity responded with this statement:
It is ironic that I am being attacked for investing my personal money in communities that badly need such investment and in which, I am sure, those attacking me have not invested their money. The fact is, these are investments that I do not individually select, control, or know the details about; except that obviously I believe in putting my money to work in communities that otherwise struggle to receive such support.




I have never discussed with anybody at HUD the original loans that were obtained in the Obama years, nor the subsequent refinance of such loans, as they are a private matter. I had no role in, or responsibility for, any HUD involvement in any of these investments. I can say that every rigorous process and strict standard of improvement requirements were followed; all were met, fulfilled and inspected.




The LLC's are REAL companies that spend real investment money on real properties.