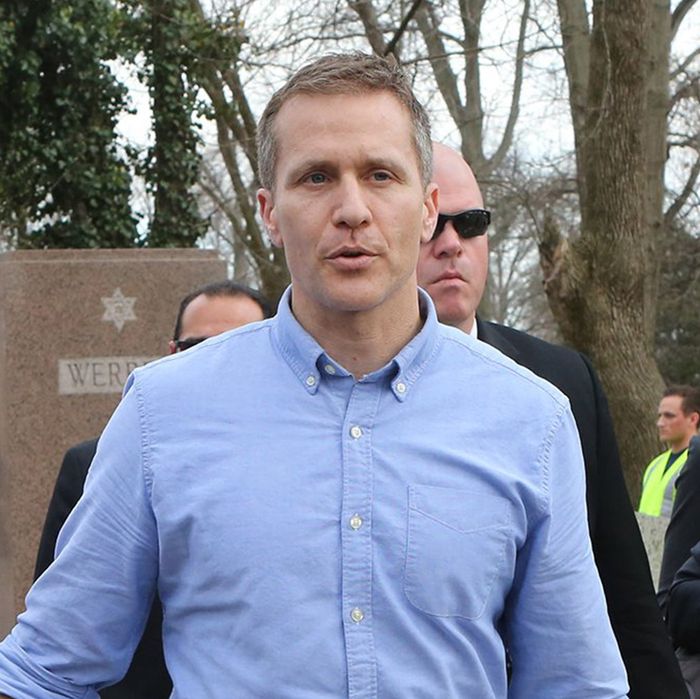 Missouri Governor Eric Greitens walks through Chesed Shel Emeth Cemetery in University City, Missouri with Vice President Mike Pence on February 22, 2017.
Photo: J.B. Forbes/TNS via Getty Images
In sworn testimony before lawmakers, a woman who had an affair with Missouri governor Eric Greitens accused him of forcing her into a sexual encounter, hitting her, taking a nude photo without her consent, and threatening to release it if she didn't keep quiet. The disturbing allegations were included in a 25-page report released on Wednesday by a special committee of the Missouri House of Representatives.
When the story broke in January, Greitens admitted to having an affair with his former hairdresser in 2015, but insisted it was entirely consensual and denied trying to blackmail her. At a press conference just before the report's release, the Republican governor said it was filled with "tabloid trash, gossip," according to the Kansas City Star. He also borrowed a term from President Trump, saying, "This is exactly what happens with witch hunts in Washington, D.C. Smearing, lying, attacking people who want to change how things are done is wrong in Washington and it's wrong in Missouri."
The Missouri House of Representatives began investigating Greitens after he was indicted in February on a charge of invasion of privacy for allegedly taking a nonconsensual nude photo. A St. Louis TV station broke the story after the woman's ex-husband provided a secretly recorded conversation in which she described the affair.
In her first public statements on the matter, the woman told lawmakers that she'd developed a crush on Greitens, a longtime client, and during an appointment in March 2015 he moved his hand up her leg "all the way up to [her] crotch" without her consent.
A week later he invited her to his home while his wife was out of town, saying they could not talk in public because he was running for office. She said she arrived around 7 a.m. and told him she had to be at work in 45 minutes. After taking her keys, searching her purse, and patting her down, he said he wanted to show her a workout and invited her to change into an outfit he'd put out for her — men's pajama pants and a T-shirt with a slit cut at the top.
The woman testified that she would not have been interested if he simply told her he wanted to have sex at that time, but she thought he was suggesting a "sexy workout" and was curious and confused. She said that when they got into the basement, he taped her hands to pull-up rings and blindfolded her. Then he said she needed to be hydrated, so he put water in his mouth and tried to spit it into hers.
"So I just spit it out," she said. "He does it and he's like, 'You're not going to be a bad girl, are you?' Tries to do it again, to which I just let it dribble out, because I didn't even want to kiss him."
She said he began kissing down her chest, then tore off the shirt and pulled down her pants without her consent. Then "I hear him kind of, like, step back — take a step back and I hear — I can hear like, a cell phone — like a picture, and I can see a flash through the blindfold."
She said he then told her that if she ever mentioned his name to anyone, "I'm going to take these pictures, and I'm going to put them everywhere I can … and then everyone will know what a little whore you are."
Next, she said, Greitens spanked her and asked if she would tell anyone. She said no, "and he's like, 'Good, now that's a good girl.'"
She said he started kissing her stomach again, and "as soon as he got, like, low on me, I just started freaking out and I started ripping down my hands. I was like, 'Get me out of here. I'm not ready for this. I don't want this. I don't want this.'"
After Greitens helped her down, she said she told him, "I'm leaving," and headed for the stairs. But then "he grabs me and like — like in a bear hug, and was like, 'Shh, shh, it's okay, calm down, calm down,' and like, lays me down on the ground in his basement. Not, like, hard, like — I mean, I was like a puddle of — no. I just, like, was crying."
She said that while she was still on the floor "bawling my eyes out," he took out his penis and put it near her face. She said she gave him oral sex because she felt that was the only way he would let her out of the basement. "It felt like consent, but, no, I didn't want to do it," she told lawmakers, later adding, "Coerced, maybe. I felt as though that would allow me to leave."
The woman left her keys at Greitens's house, and said when she came back later in the day to retrieve them he told her he needed the picture to "protect himself," since he was running for office, but that he felt bad and deleted it.
She said they went on to have several consensual encounters over the next few months. When asked why she continued seeing him, the woman said, "I've asked myself that so many times."
She explained Greitens was kind to her after the first incident and she "didn't want to think that he thought of me as just a whore. I wanted to think that he actually really liked me and wanted to have a relationship with me of sorts."
However, she described two more nonconsensual incidents: one where Greitens smacked her hard across the face and said, "you're mine," after she confessed to having sex with her husband, and another in which he "out of nowhere, just, like, kind of smacked me and grabbed me and shoved me down on the ground" during a sexual encounter.
Eventually they learned someone, later revealed to be the woman's husband, had emailed Greitens's wife about the affair, and they called things off.
Greitens refused to testify or provide documents to the committee, and he has not directly addressed questions about whether he took the photo. However, he's said he expects to be proven innocent when he goes to trial in May, and released a statement on Wednesday night saying "this was an entirely consensual relationship, and any allegation of violence or sexual assault is false."
Members of the committee said they found the woman's testimony credible. GOP legislative leaders announced that the panel will continue its investigation and decide whether to file articles of impeachment. If a majority of House members vote for impeachment, the Senate will select seven judges to conduct a trial.
For now Greitens, who was once considered a rising star in the GOP, is refusing calls to resign. In another significant blow, Missouri's Republican Attorney General Josh Hawley, who is attempting to unseat Democratic senator Claire McCaskill in November, responded to the report by calling on Greitens to step down.
"The conduct the report details is certainly impeachable, in my judgment, and the House is well within its rights to proceed on that front. But the people of Missouri should not be put through that ordeal. Governor Greitens should resign immediately," Hawley said.
McCaskill called for his resignation as well: