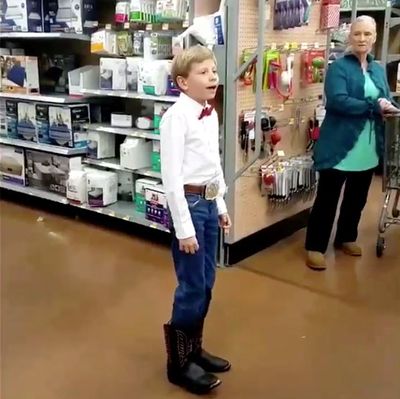 One of the beauties of this fragile thing we call life is that it's unpredictable. You could be sitting on the subway, minding your own business, when suddenly a group of break-dancers hops into your car to put on a show. You could be riding the subway when a celebrity gets on, randomly. Maybe you're riding the subway and you find $20. A lot can happen on the subway.
Or, maybe you're in a Walmart. You're searching for savings amid the aisles of home goods and electronics, when suddenly, a voice rings out. You peek around the corner, and see … this.
Very normal thing to see amid the aisles of everyday low prices.
The clip — curious and endearing — has gone viral over the last week, in part because there are a lot of things to meme here. Singing at Walmart, a young boy yodeling the phrase "sweet daddy," the outfit, the staging and shot composition.
The boy seen here is Mason Ramsey, an 11-year-old from Illinois whose favorite singer is Hank Williams. As of two hours ago, he has a new Twitter account to capitalize on his newfound internet fame. He also posted a new video for all of his fans.
This isn't even the first time he's gone viral! A video from early 2017 also shows Ramsey in a shopping cart belting out the hits. According to the Southern Illinoisan, the video got 3.4 million views on YouTube (though that specific copy appears to have vanished).
Well, as the saying goes, "Sing loudly in enough Walmarts and eventually you'll go viral." Dreams do come true.