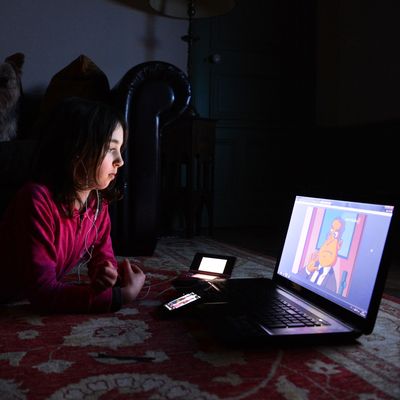 Photo: Alain Jocard/AFP/Getty Images
More than 20 consumer advocacy groups have joined forces against YouTube. The Google-owned platform is, according to those groups, violating children's privacy law by collecting data from users younger than 13. The coalition filed a complaint to the Federal Trade Commission on Monday, the New York Times reports.
While YouTube technically has a different platform, YouTube Kids, engineered for younger users, the problem is that many kids are using YouTube's general platform. While technically YouTube's terms of service dictate you must be 13 to use it, many kids — and their parents — ignore this. Which means, as Monday's complaint argues, the data collected can include things like locations and phone numbers. The data can also be used to see what else an underage user is doing only to better target ads to them. This requires parental consent under the Children's Online Privacy Protection Act. Something which, right now, the consumer group coalition says YouTube isn't getting before harvesting said data.
The FTC said they had not received the formal complaint yet but planned to take it "very seriously." "We will read the complaint thoroughly and evaluate if there are things we can do to improve," a YouTube spokesperson told the Times. "Because YouTube is not for children, we've invested significantly in the creation of the YouTube Kids app to offer an alternative specifically designed for children." YouTube has also not yet received the complaint.