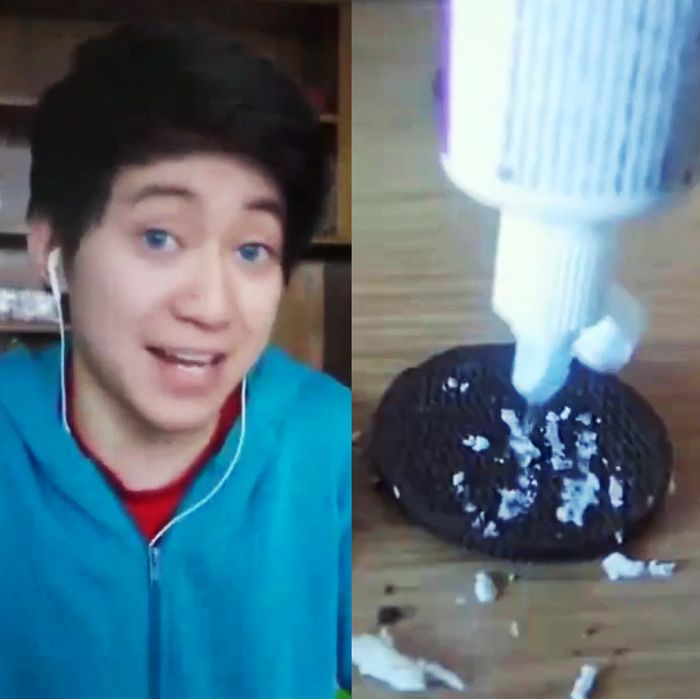 YouTube pranks are a subgenre of pranks or practical jokes that is less about having fun and more about inflicting physical and emotional torment on innocent bystanders. That could mean blasting an air horn at someone or firing a taser at a dead rat or faking a terrorist attack or throwing a Poké Ball at Japanese people. Or in the case of Kanghua Ren, tricking homeless people into eating Oreos filled with toothpaste.
Kanghua, who is originally from China, now resides in Barcelona, Spain, and goes by ReSet on YouTube. The 20-year-old has 1.2 million subscribers and nearly 100 million views. According to the Independent, he filmed himself swapping out the cookie filling with toothpaste and then handed them to a man named Gheorge L. along with 20 euros.
"Maybe I've gone a bit far, but look at the positive side: This will help him clean his teeth. I think he hasn't cleaned them since he became poor," Kanghua says in the video. The prank victim got sick within five minutes of eating the cookies and said he feared for his life.
According to court documents viewed by El Pais, the Spanish newspaper, the YouTuber made about 2,000 euros, or just shy of $2,500, from advertising place on the video. Prosecutors say he later deleted the video from his channel and tried to pay off his victim to bury the whole thing. The Independent says that he now faces two years in prison on "a charge of a crime against moral integrity."