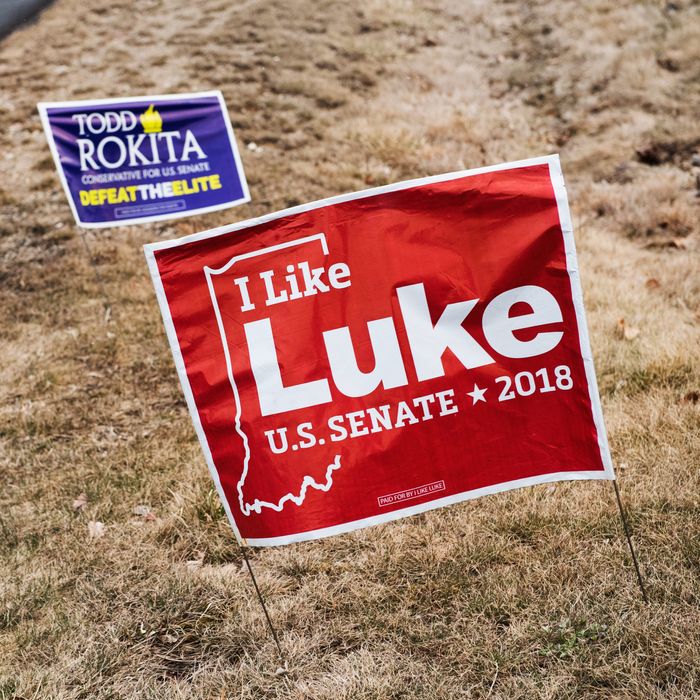 A rough three-candidate GOP Senate primary in Indiana is one of several Trump-o-centric contests on May 8.
Photo: Tom Williams/CQ-Roll Call,Inc.
On May 8, the primary season of the 2018 midterm elections gets into full swing with nominating contests (and one special congressional election) in four states. Donald J. Trump is the dominant figure in many races, particularly the many Republican contests in which fidelity to the 45th president is the main issue, but also in the smaller batch of Democratic primaries where "resistance" strategies are explicitly or implicitly being compared. Despite the broad array of contests, it could be a relatively early election night: polls close at 6 p.m. ET (with a handful of counties closing at 6 CT) in Indiana, and at 7:30 ET in North Carolina, Ohio, and West Virginia. All four states allow independent voters to participate in either party's primary. Indiana and Ohio allow Election Day changes in party affiliation.
Indiana: Who's the Trumpiest of them all?
Indiana is one of two states holding May 8 primaries where Republicans are having a dangerously fractious fight to choose challengers to vulnerable Democratic U.S. senators. And in both cases, a "murder-suicide" scenario could well deliver the GOP nomination to an "outsider."
Two conservative congressmen, Luke Messer and Todd Rokita, who have been perpetual rivals since college, have been going after each other with clawhammers from the beginning of the race, which has allowed wealthy former state legislator Mike Braun emerge as the favorite (though an absence of public polling makes that characterization speculative).
To the extent there is any issue in the primary beyond personal animus, it's been an intense competition about which candidate would most slavishly support Donald Trump, who has remained scrupulously neutral. Rokita bids fair to become the most abjectly submissive toady of the president in the entire country (he has actually campaigned with a cardboard cutout of the president), though he got into trouble for yard signs implying that the president and vice-president actually supported him. Braun, who has outspent is rivals by a healthy margin ($4.5 million compared to $2.9 million for Messer and $2.8 million for Rokita, as of mid-April), has been attacked by both of them for his past Democratic affiliation. Messer put in his own smart Trump-toady bid recently by initiating a congressional nomination of the president for a Nobel Peace Prize.
Donnelly is running unopposed for the Democratic Senate nomination. But his old House district in north-central Indiana is getting some attention as three Democrats vie for the chance to take on Republican incumbent Jackie Walorski in a contest that the Cook Political Report has rated as Likely R (just outside the competitive range). Mell Hall is running on a classic Hoosier Democratic "pragmatic" platform, while rivals Yatish Joshi (who appears to be the strongest rival) and Pat Hackett are running as loud-and-proud progressives.
There's one noncompetitive House primary in Indiana that will get some attention: Luke Messer's Sixth Congressional District, from which the vice-president's older brother, Greg Pence, may be heading to Washington thanks to that heavily Republican jurisdiction, which Mike Pence used to represent.
Early voting could be a factor in close races in Indiana, although the Republican-controlled state government has limited opportunities for in-person early voting in recent years.
North Carolina: setting up some close November House contests
There are no statewide races on the ballot this year in the Tar Heel State, which has become a highly competitive battleground at every level in recent years. That means turnout in the primaries and in the general election could be quite low, placing a premium on organization.
Democrats think they have a chance to flip three Republican-held congressional districts in the state, and the primaries may affect their chances of doing that. The best-known contest is on the Republican side, in the Charlotte-suburbs Ninth Congressional District, where three-term incumbent Representative Robert Pittenger is facing a rematch against fiery Christian right minister and politician Mark Harris, who very nearly defeated him in 2016 in a three-way race dominated by a federal investigation of Pittenger's campaign finance record (the investigation ended last year without charges being filed).
The primary could soften up Pittenger for a challenge from likely Democratic nominee Dan McCready, a Marine veteran who has been compared a lot to Pennsylvania Conor Lamb. And if Harris wins, it's definitely game on. The district has a Cook Political Report partisan voting index of R+8, but Cook rates this race as competitive (Leans R).
In the 13th District, based on suburbs north of Charlotte and south of Greensboro, a relatively weak Republican incumbent, freshman (and gun store owner) Ted Budd, could get a real challenge if philanthropist Kathy Manning wins the Democratic primary. She has outraised the incumbent by a large margin; this race, too, is rated as Lean R by Cook.
Ohio: Democrats Try to Turn a Suddenly Red State Back to Purple
After being the quintessential battleground state for the first years of the 21st century, Ohio lurched into red territory in 2016 with Trump's eight-point victory there. At this point, "populist" progressive Democratic senator Sherrod Brown is favored to hang onto his seat against the very likely Republican nominee, U.S. Representative Jim Renacci, who is expected to beat self-funder Mike Gibbons, particularly after Renacci got an endorsement and shout-out from Donald Trump during a weekend trip to Ohio.
But there are competitive primaries in both parties for the contest to choose a successor to term-limited GOP governor John Kasich.
State Attorney General and former U.S. senator Mike DeWine has long been the favorite for the Republican nomination. But the campaign of his opponent, Lieutenant Governor Mary Taylor, is a good indication of the drift to the right of the GOP in Ohio and nationally. Kasich's handpicked running mate in 2010 and 2014, Taylor is now running as a shrill pro-Trump conservative.
DeWine has led comfortably in every public poll, but Taylor has been relatively competitive financially. An upset is possible, if not likely.
The Democratic gubernatorial primary has gotten more attention, thanks to the celebrity status of the top two candidates: former Consumer Financial Protection Bureau Director Richard Cordray (backed by his Washington patron, Elizabeth Warren) and the indefatigable lefty icon Dennis Kucinich (endorsed by the Sandernista Our Revolution organization, which is headed up by Ohioan Nina Turner). Cordray has gotten some heat from the left for past support for gun rights, while Kucinich's post-2016 Fox News appearances, occasional kind words for Trump, and manifest sympathy for Syrian tyrant Bashar al-Assad have earned him some partisan grief.
There are two other candidates in the race, but Cordray has held a solid lead in most of the scattered public polls, with Kucinich running second and counting on strong turnout from his northeast Ohio base. Cordray's the definite favorite, but an upset — and with it, even longer odds of a Democratic win in November — is possible.
The marquee House primary in Ohio is a special election primary in the 12th Congressional District centered in the Columbus suburbs. Incumbent Republican congressman Pat Tiberi resigned to take a business association gig; the May 8 winners will face each other in an August 7 general election (the same candidates, by the way, are competing on the same day for the regular 2018 nominations, creating the remote chance of different results in the same district). It's a seat that has been held by Republicans virtually forever, but its Cook Political Report Partisan Voting Index rating is just R+7, definitely within the zone of Democratic upset possibilities in special elections since Trump took office. Democrats seem to have consolidated behind Franklin County (Columbus) Danny O'Connor. But there is a scorching primary fight in a multi-candidate GOP field, with the main contenders being "Establishment" conservative and state senator Troy Balderson facing yet another Trump-0-centric right-winger, Melanie Leneghan. The PAC set up by the moderate Republican Main Street Partnership is spending an impressive amount of money on Balderson's behalf, in part to counter attack ads from the Club for Growth, while Leneghan is being backed by the action fund of the House Freedom Caucus.
This primary will serve as another barometer for how far right GOP primary voters want their party to move. Cook rates the special general election in August as a tossup at this point.
West Virginia: Another Alabama in the Making?
West Virginia's GOP Senate primary resembles Indiana's in many respects. Two fairly traditional conservative Republicans (U.S. Representative Evan Jenkins and Attorney General Pat Morrisey) have spent most of the cycle attacking each other as insufficiently loyal to Trump, allowing a wealthy "outsider" to creep into contention. But that outsider, ex-mine owner and ex-convict Don Blankenship, is not much like Indiana's Mike Braun; he's more like Alabama's Roy Moore, an extremely well-known and controversial figure who is trying to run as the most conservative and Trumpiest candidate in the field.
Blankenship, who is on a crusade to vindicate himself from the charge (which led to his imprisonment for a year) of being responsible for the deaths of 29 miners in one of his facilities in 2010, has spent freely to blast a supposed Democratic conspiracy (involving President Obama and West Virginia's own Democratic senator Joe Manchin) against his state's coal industry and his own self, side-swiping his primary opponents as typical politicians. More recently he's gotten into an increasingly wild fight with Senate Majority Leader Mitch McConnell (Roy Moore's nemesis as well) who is probably responsible indirectly for an infusion of outside money to run anti-Blankenship ads. Blankenship's laconic and racist responses are already legendary:
With reports from private polling indicating a late "Blankenship surge" in the primary, Donald Trump was finally convinced to make a last-minute intervention:
It's possible early voting (just under a fourth of total 2016 general election ballots in the state were cast early) could be an unusually large factor in West Virginia this time around, if only because early voters missed the wild finish to the campaign, including Trump's intervention. But if Blankenship wins, it's probably good news for Joe Manchin, but also a very dangerous precedent for how to go about winning Republican primaries in the Trump era.