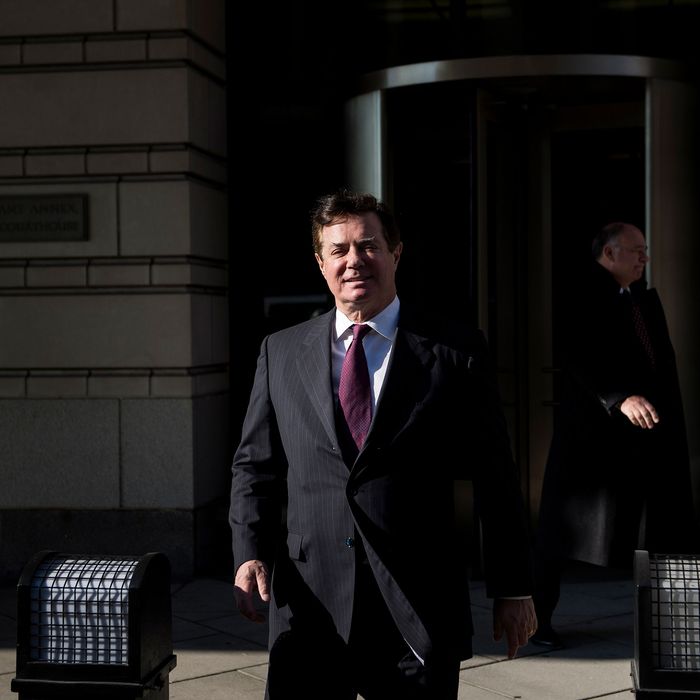 Paul Manafort leaves Federal Court in December.
Photo: Brendan Smialowski/AFP/Getty Images
Paul Manafort is "struggling to pay legal bills," and a group of "longtime" friends has set up a legal defense fund for those who want to lend a hand to the former Trump campaign manager.
The fund, according to an email obtained by BuzzFeed, was created to help Manafort's family "battle false allegations, government leaks and smear campaigns" related to the charges brought by Special Counsel Robert Mueller. "The Defense Fund is urging anyone who values civil liberties and wishes to show the 'Deep State' that they cannot exert their will on ordinary citizens, to join them in supporting the Manafort family as they grapple against the Special Counsel to clear their name," the email says.
A website set up for the fund uses combative language. "A gift by you will help Paul and his Team mount the strongest and most thorough defense possible," it says. But the embedded video of Sean Hannity ranting about the investigation leaves little doubt about how Manafort's friends feel about Mueller.
Manafort is facing a slew of criminal charges in both Washington, D.C., and Virginia. Among them are bank and tax-fraud charges related to his time working as a lobbyist in Ukraine. His longtime partner, Rick Gates, who is facing similar charges, has already pleaded guilty and agreed to cooperate with Mueller. When Gates announced his guilty plea, it was in part because of the "cost" of his legal defense, he said.
Now Manafort is running up against the same problem, which could mean that he is close to flipping and working with Mueller. Or it could mean that he might have to sell his rugs.