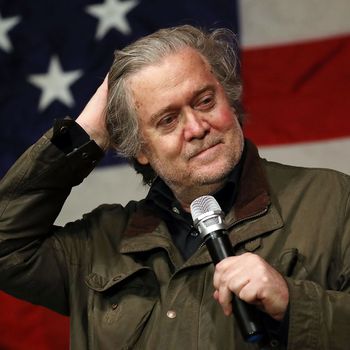 Get ready for more genius ideas from the man who backed Roy Moore.
Photo: Joe Raedle/Getty Images
After being spurned by multiple high-profile lawyers in April, President Trump was said to be so desperate for legal advice that he'd ask "virtually any attorney who calls him up" about how he should handle Robert Mueller's probe. Though he has no legal expertise, fired Trump strategist Steve Bannon tried to seize the opportunity, pitching White House aides and congressional Republicans on a plan to oust the special counsel.
Trump's last public word on Bannon came amid the Fire and Fury controversy in January, when he said he'd "lost his mind." Trump aides doubted that he'd be receptive to any plot that he knew came from Bannon, and sure enough a day after the strategist shared some of his ideas with the Washington Post, Trump appeared to shoot him down, tweeting his support for his lawyer and his strategy of cooperation with Mueller.
Within days Trump added Rudy Giuliani to his legal team and a short time later Cobb, and his conciliatory strategy, were out. Giuliani embarked on an aggressive media blitz against Mueller, which was undercut by a stunning stream of contradictions and unwise admissions.
Meanwhile, Trump's allies in Congress continued demanding disclosures from the Department of Justice that appeared aimed at giving the president reason to fire Deputy Attorney General Rod Rosenstein, who's overseeing the Russia probe. Their calls for the release of the "Nunes memo" and former FBI director James Comey's memos failed to do the trick, so now they've progressed to exposing a top-secret FBI source who gave investigators information in the early stages of the Russia probe.
Trump and his allies have construed this as improper spying on his campaign, which delegitimizes the entire Mueller probe. Now they want the source publicly identified, despite warnings from Justice Department leaders that this could put lives in danger and harm other operations. The Washington Post reported on Thursday the FBI is now bracing for the president and his allies to expose an intelligence source:
The stakes are so high that the FBI has been working over the past two weeks to mitigate the potential damage if the source's identity is revealed, according to several people familiar with the matter. The bureau is taking steps to protect other live investigations that the person has worked on and is trying to lessen any danger to associates if the informant's identity becomes known, said these people, who spoke on the condition of anonymity to discuss sensitive intelligence operations.
While House Intelligence Chairman Devin Nunes is still pushing for the release of classified information on the origins of the Russia probe, he's reportedly been avoiding direct communications with the president after he was caught conferring with the White House during previous attempts to undermine Mueller. Instead, Trump has been consulting with Representative Mark Meadows, who reportedly talks with him by phone three or more times a week about their suspicion that the Justice Department is up to no good.
And who's quietly adding fuel to these concerns about the nefarious actions of the "deep state"? Buried in the Post's report, we find a familiar name:
Former White House chief strategist Stephen K. Bannon is functioning as an informal adviser to the Trump allies, both inside and outside the administration, who are leading the charge against the Justice Department, according to three people involved in those discussions.




Working from his Capitol Hill townhouse, Bannon has conferred with Meadows, former Trump campaign manager Corey Lewandowski, and former Trump deputy campaign manager David Bossie, among others, about how to bolster support for Trump allies in Congress who are calling for more document disclosures, the people said.




These people said the Bannon-advised group sees itself as a bulwark for the embattled president and said there were growing tensions between them and Kelly and McGahn, whom the group sees as not doing enough to force the hand of top Justice officials.
Trump may not know that his Russia-probe confidants are also strategizing with Bannon, and so far they don't appear to be following the plan he laid out last month. Bannon's step one was Trump firing Rosenstein; Republicans in Congress may be laying the groundwork, but he still has his job.
Bannon also called for the Trump team to stop cooperating with Mueller, but we're not quite there yet. While Giuliani is pushing for the special counsel to wind up the investigation without talking to Trump, he hasn't completely ruled out an interview. Giuliani even revealed on Thursday that they're planning a series of prep sessions over the summer to get Trump ready for his potential Mueller interview.
Giuliani claimed recently that Trump could assert executive privilege or plead the Fifth to get around talking to Mueller, but there's been no public discussion of Bannon's idea to retroactively assert executive privilege over all of Mueller's interviews with White House officials. That suggestion was widely mocked by actual legal experts.
The idea to be more aggressive with Mueller's team isn't unique to Bannon, and if there's a grand plan behind what Giuliani and Trump's congressional allies are doing, it doesn't seem very nuanced or well coordinated. But it does seem Bannon has found a way to keep doing what he does best: stir divisions among team Trump.