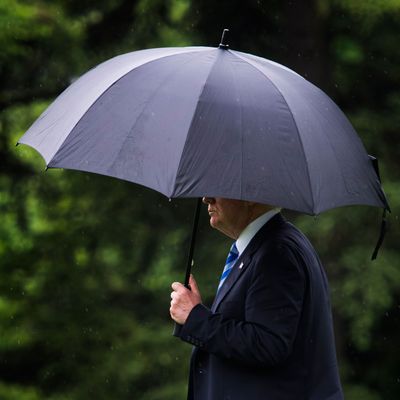 President Trump, with an umbrella.
Photo: Jabin Botsford/The Washington Post/Getty Images
President Trump is marking the one-year anniversary of special counsel Robert Mueller's probe into Russian election interference with angry tweets, including one labeling the investigation the "greatest Witch Hunt in American History" and another accusing the "Obama FBI" of spying on his campaign.
The tweet refers to the claim, increasingly popular among Trump's most ardent defenders, that the FBI had a spy in his campaign. The theory was given more fuel Wednesday by a line in a New York Times story, which said "at least one government informant met several times with Mr. Page and Mr. Papadopoulos," referring to Trump campaign aides Carter Page and George Papadopoulos.
After the Times piece was posted, Breitbart News ran a headline that said "Leakers to NYT Confirm FBI Ran Spy Operation Against Trump Campaign." On Wednesday night, Trump's newest lawyer Rudy Giuliani was talking about it on Fox News, telling Laura Ingraham that the FBI "possibly plac[ed] a spy in the Trump campaign."
Then on Thursday morning former federal prosecutor Andrew McCarthy appeared on Fox & Friends to talk about the informant, which he'd previously written about for The National Review.
"What happened here is that they did not have a criminal predicate to open an investigation on Trump," McCarthy said. "And what they did was use their counterintelligence powers covertly to investigate the Trump campaign, during the stretch run of the campaign, under circumstance where they did not have evidence that anyone had actually committed a crime."
Giuliani also appeared on Fox & Friends Thursday morning to stoke the flames, saying that if the FBI had spied on the Trump campaign, "That would be the biggest scandal in the history of this town, at least involving law enforcement." This morning's Trump tweet confirms that the intended audience for that statement was watching.