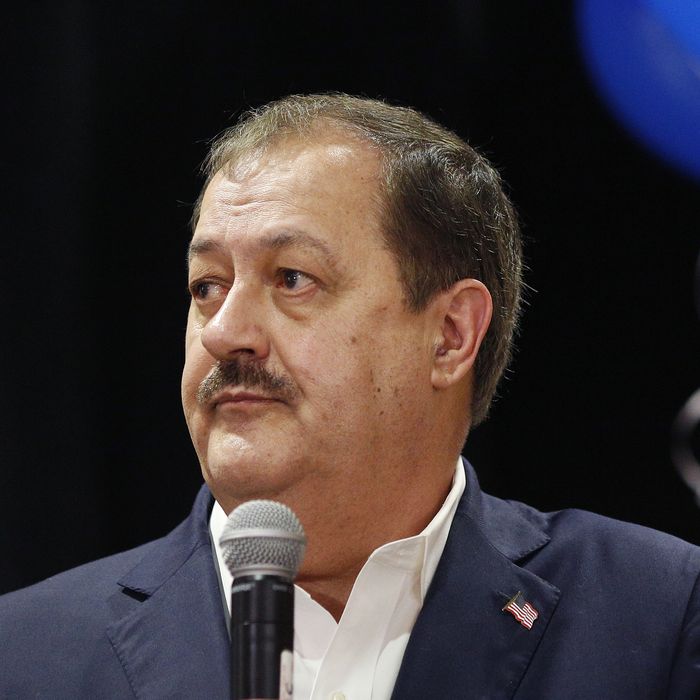 Don Blankenship speaks during an election night event in Charleston, West Virginia.
Photo: Luke Sharrett/Bloomberg via Getty Images
Republicans dodged a potential repeat of their nightmarish 2017 experience in Alabama on Tuesday as rogue candidate and ex-convict Don Blankenship finished a poor third in a GOP Senate primary in West Virginia, winning only 20 percent of the vote. Attorney General Patrick Morrisey won the nomination to face Democratic senator Joe Manchin, defeating U.S. Representative Evan Jenkins by five points (as of this writing). But Blankenship, the former coal executive who turned the primary into a crusade for vindication after doing time for a deadly 2010 explosion in one of his mines, succeeded only in scaring the national GOP by endangering its odds in the fight to take down Manchin.
Morrisey and Jenkins very nearly executed a murder-suicide maneuver by blasting each other and ignoring the free-spending Blankenship until late in the race (Democrats chipped in by running ads attacking Morrisey and Jenkins but ignoring Blankenship). But they turned their guns on him eventually, even as a shadowy super-PAC allegedly reporting to Senate Majority Leader Mitch McConnell heavily invested in anti-Blankenship ads.
The coal baron fired back at McConnell in a series of eccentric and borderline racist ads calling the Kentuckian "Cocaine Mitch" (an obscure allusion to charges that the drug had been found on a ship owned by McConnell's father-in-law) and accusing him of favoritism toward "China people" (McConnell's wife, U.S. Secretary of Transportation Elaine Chao, is Taiwanese-American). Finally, on May 7, amid rumors that Blankenship was "surging" into a lead in private polls, President Trump urged a vote against Blankenship on grounds that he'd lose in November.
It's possible Blankenship was never that strong, or that McConnell and his friends softened him up, or that Trump did him in. But Republicans in Washington join many in West Virginia in celebrating the ex-con's demise. Indeed, McConnell gloated in a tweet that seems to show the usually taciturn Majority Leader smiling as a white substance drifts around him:
Is that supposed to be cocaine? Maybe so. This continues to be, well, an unusual period of American political history. But we won't be treated to any more of Don Blankenship's peculiar political stylings this year, unless he tries to take his whole party down in November. And perhaps his loss is a sign that despite what happened in Alabama last year, candidates who try to out-Trump Trump against the president's own wishes will have a hard time taking on the united GOP swamp.