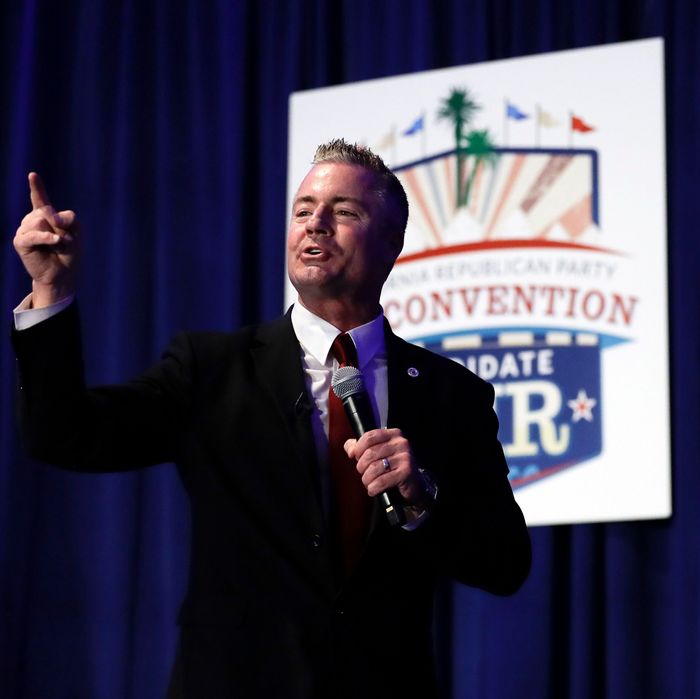 Travis Allen fails to get the crowd sufficiently riled up at the California Republican Party convention on May 5, 2018.
Photo: Gregory Bull/AP/REX/Shutterstock/Gregory Bull/AP/REX/Shutterstock
At the congressional level, California Republicans have shown some self-discipline and manipulative energy in working the state's top-two primary system (in which the first- and second-place finishers, regardless of party or percentage, proceed to the general election). By deploying just enough candidates in key districts, they may be able to lock out Democrats from races they might otherwise win. As the Cook Political Report's David Wasserman notes, there are four U.S. Republican-held House districts that Hillary Clinton carried in 2016 where crowded fields of Democrats are in danger of finishing no better than third in the June 5 primary and spending the fall campaign on the sidelines.
But in the two statewide races that will appear at the top of the ballot and potentially drive turnout in November, Republicans are not looking so shrewd. No GOP candidates of any serious standing qualified for the U.S. Senate race, where incumbent Dianne Feinstein and progressive challenger Kevin de Leon are virtually guaranteed spots in the general election. And now an effort at the state GOP convention to unite behind a single gubernatorial candidate has failed as well, significantly reducing the odds of a Republican appearing on the general election ballot opposite the front-runner and favorite to win the whole enchilada, Lieutenant Governor Gavin Newsom.
Anticipating a problem like this after Republicans were shut out of a 2016 U.S. Senate race (ultimately won by Kamala Harris in a November matchup with fellow Democrat Loretta Sanchez), the GOP set up a process for a preprimary gubernatorial endorsement this year. And it sure looked necessary. After a third potentially viable GOP gubernatorial candidate, Doug Ose, dropped out in February, wealthy businessman John Cox and fiery conservative state legislator Travis Allen have appeared to divide the party somewhat evenly. The free-spending Cox is doing better in polls and among GOP elites, while Allen lit up the grassroots.
But neither candidate could get over the 60 percent threshold for a formal endorsement at this weekend's state GOP convention in San Diego. Cox, who unveiled a key endorsement from House Majority Whip (and likely future House GOP leader) Kevin McCarthy late last week, won 55 percent of the votes compared to Allen's 41 percent. A push by Cox supporters to force a revote failed.
So now, with less than a month to go before the primary, both candidates will likely sharpen their elbows against each other and hope that some Republicans can edge out former Los Angeles Mayor Antonio Villaraigosa — who has recently begun a lavishly financed series of TV ads — for second place. Cox is largely self-financing, and has over a million dollars in funds for a late ad blitz. Allen has very little money, but is the favorite of hard-core pro-Trump conservatives most likely to show up in a low-turnout primary. Cox credibly claims Allen has almost none of the crossover appeal necessary for a serious general-election campaign. Allen keeps hammering and hammering away at Cox's admitted failure to vote for Donald Trump in the 2016 presidential general election (he voted for Libertarian Gary Johnson, but now purports to be a strong Trump supporter). Both candidates sound similar in opposing "sanctuary cities," supporting the Trump administration's various legal battles with their state's Democratic overseers, and calling for a repeal of the 2017 gas-tax increase pushed through by Democrats to pay for long-stalled road and bridge repairs.
Some Republicans believe a ballot initiative to overturn the gas-tax increase (which is very likely to be voted on in November) will be the general election turnout generator they need, even if they don't have a candidate in the Senate or gubernatorial general election. If they are wrong, and neither Cox nor Allen finishes second on June 5, then there could be hell to pay down-ballot, including those U.S. House races where Republicans might have otherwise figured out a way to survive. And that could have major national repercussions.