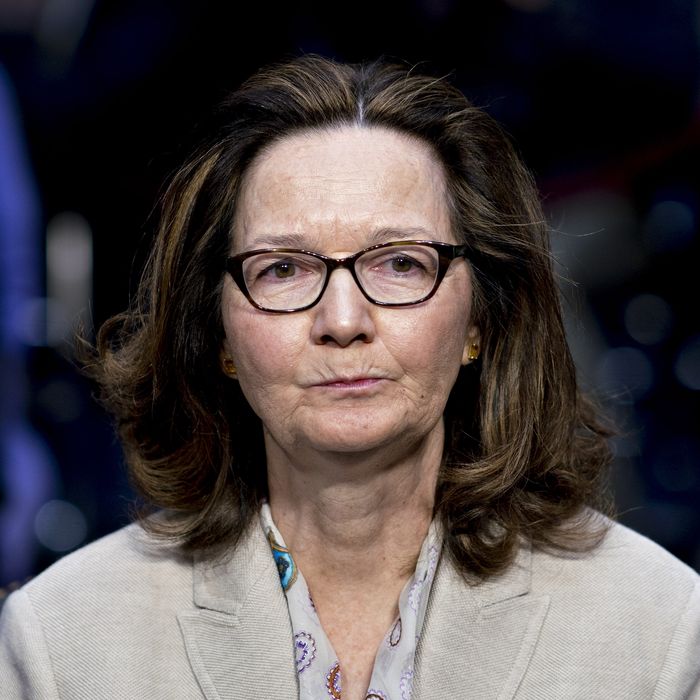 Gina Haspel during her Senate Intelligence Committee confirmation hearing.
Photo: Andrew Harrer/Bloomberg via Getty Images
Gina Haspel, President Trump's pick to lead the CIA, told Senators Wednesday that she would not reinstate the brutal torture program the agency ran at black sites after 9/11, pledging to put her moral beliefs ahead of any immoral orders.
"I would not allow CIA to undertake activity that I thought was immoral, even if it was technically legal," Haspel said. "I would absolutely not permit it."
Given Haspel's time running a black site in Thailand though, Senators were predictably eager to have her define her morality. Haspel didn't bite.
Asked by Virginia Senator Mark Warner to define her "moral code," Haspel would only insist that her "moral compass is strong." When New Mexico Senator Martin Heinrich asked if the torture techniques used by the CIA at black sites were moral, she said that she supports the "stricter moral standard" the U.S. has decided to hold itself to. Asked why her morals didn't prevent her from carrying out immoral orders during the Bush administration, Haspel essentially said she was just following orders when she ran the black site where Fatima Boudchar was tortured. The Morocco-born Boudchar wrote about her time at the Thai prison in the Times this week:
I have no idea how long I was in the Thai secret prison because no one would let me sleep. The cell was white and stark, with nothing in it but a camera and hooks on the wall. The masked abductors were waiting. I was terrified. They chained me to the hooks. Because I was midway through my pregnancy, I could barely move or sit.




Some of what they did to me in that prison was so awful I can't talk about it. They hit me in the abdomen just where the baby was. To move me, they bound me to a stretcher from head to toe, like a mummy. I was sure I would shortly be killed.
California Senator Kamala Harris pushed Haspel to denounce torture. "The president has asserted that torture works," the California Democrat said. "Do you agree with that statement?"
"Senator, I — I don't believe that torture works," Haspel said, before suggesting that it might have worked in the aftermath of 9/11. "I believe that in the CIA's program, and I'm not attributing this to enhanced interrogation techniques … valuable information was obtained from senior Al Qaeda operatives."
"Is that a yes?" Harris asked.
"No, it's not a yes. We got valuable information from debriefing of Al Qaeda detainees, and I don't think it's knowable whether interrogation techniques played a role in that," Haspel said.
Despite her pledges to abide by a strict moral code, Haspel did not take the opportunity to say she would not waterboard a suspect if so ordered.
"If the CIA has a high-value terrorism suspect in its custody and the President gave you a direct order to waterboard that terrorist, what would you do?" Maine Senator Susan Collins asked.
"I do not believe the president would ask me to do that," she said.
She may be alone in that belief. Trump has repeatedly endorsed waterboarding, even suggesting that the U.S. should do a "hell of a lot worse" during the 2016 presidential campaign.
Despite her less-than-ideal showing with Democrats, Haspel won the public support of West Virginia Senator Joe Manchin, a Democrat, not long after the hearing ended. With Kentucky Senator Rand Paul declaring his intention to vote against Haspel and Senator John McCain's absence from Washington, the GOP needs to pick up at least one Democratic vote to confirm the 61-year-old CIA veteran. With Manchin in the fold, the votes are there, as long as no other Republicans defect.