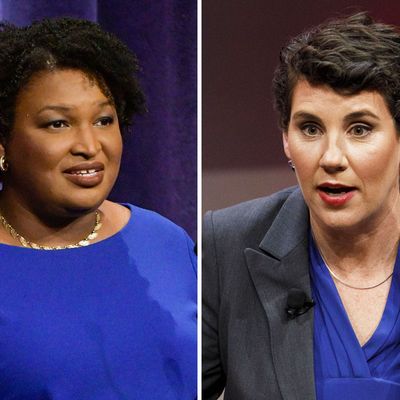 Georgia gubernatorial candidate Stacey Abrams and Kentucky congressional hopeful Amy McGrath were two of the Democratic women winning competitive May 22 primaries.
Photo: Getty Images/Shutterstock
The primaries yesterday in Georgia, Kentucky, and Arkansas and primary runoffs in Texas set up competitive general election contests for both parties. In all four states, Republicans dominate state governments and congressional delegations. But Democrats hope a national wave stimulated by resistance to Donald Trump will give them a regional midterm breakthrough, and chose an unprecedented number of women and minority candidates to make the challenge. Republican primaries were more conventional, with self-conscious and often strident conservatives making loyalty to Trump their centerpiece theme in hopes of riding an energized party base to victory in November.
Georgia
In the marquee contest of the night, Georgia's much-discussed Democratic gubernatorial primary featuring two women with the same first name and similar progressive issues stances, Stacey Abrams won a shockingly large victory over Stacey Evans, giving her the opportunity in November to become the nation's first African-American woman to serve as governor. Abrams won by more than a three-to-one margin, winning 75 percent even in the suburban Atlanta county where Evans is a state legislator. While a majority of primary voters were undoubtedly African-Americans, the scale of Abrams's win indicates she put together a solid biracial coalition, which she will need to become the first Democrat to win the governorship, in this rapidly changing state, since 1998.
Abrams could be helped if a good, vicious Republican runoff contest develops between three-term lieutenant governor Casey Cagle and Secretary of State Brian Kemp. Cagle won a somewhat tepid 39 percent after leading a five-candidate field throughout the race. Kemp broke from the rest of the pack with a late surge that won him 26 percent, after running some of the more atavistically right-wing ads of the cycle. Both candidates have stressed their stout resistance to the phantom threats of gun control (Cagle won the NRA endorsement after leading a legislative effort to punish Atlanta-based Delta Airlines for ending its partnership with the gun lobby) and "sanctuary cities" (Kemp ran an ad promising to use his "big pickup truck" to "round up criminal illegals"). Heading toward a low-turnout July runoff, it's a good bet both candidates will become even louder-and-prouder ideologues and Trump fans. One recent poll showed Abrams running five points behind Cagle in a general-election trial heat. Turnout in both primaries was less than robust, with the larger GOP field helping produce 607,000 votes as compared to 553,000 Democratic votes. This will almost certainly be the most ideologically polarized statewide race in Georgia history.
There were two congressional primaries in Georgia on the Democratic side in Republican-held districts that are potentially competitive in November, with both setting up July 24 runoffs. In Georgia's Sixth District, the North Atlanta district where Republican Karen Handel narrowly defeated Democrat Jon Ossoff in an expensive and prominent special election last year, an African-American gun-control spokeswoman, Lucy McBath, finished a surprising first, and will face wealthy businessman Kevin Abel for the chance to take on Handel. In the adjoining Seventh District, EMILY's List endorsee and Georgia State University professor Carolyn Bourdeaux edged self-funder David Kim to lead a large field in an area with a rapidly increasing Asian-American population; the runoff winner will challenge incumbent Rob Woodall.
Kentucky
Kentucky's embattled teachers scored a series of wins in state legislative primaries, including one in which the GOP Majority Leader of the state House went down to defeat. At the congressional level, the big race was a highly competitive Democratic primary to choose a challenger to vulnerable Sixth District U.S. representative Andy Barr. It featured Lexington mayor Jim Gray (who won the district in his unsuccessful Senate race against Rand Paul in 2016) and pioneering Marine combat pilot Amy McGrath. In a mild upset, McGrath won comfortably.
Texas
The most-nationally-discussed runoff contest in the Lone Star State after the March 6 primary was in the Houston-area Seventh District, where the Democratic Congressional Campaign Committee got a lot of grief for releasing oppo research aimed at progressive candidate Laura Moser, who nonetheless made the runoff against EMILY's List favorite Lizzie Fletcher. But Fletcher won easily yesterday, and will face Republican Representative John Culberson in November in an uphill but winnable race.
In another Democratic runoff featuring an EMILY's List candidate facing a self-proclaimed Sanders-style progressive, in the Rio Grande Valley–based 23rd District, Filipino-American former Air Force intelligence officer Gina Ortiz Jones easily turned back teacher Rick Trevino, and will take on vulnerable Representative Will Hurd in the general election.
The open 21st District in central Texas drew 18 candidates to its Republican primary in March. In the runoff former Ted Cruz chief of staff Chip Roy struggled a bit with perennial candidate Matt McCall but did prevail. He will face the candidate Democrats wanted in Joseph Kopser, whose financial advantage over progressive minister Mary Wilson facilitated a comfortable win.
In the Dallas suburban 32nd District, former NFL player and civil rights attorney Collin Allred, who is African-American, defeated former USDA official Lillian Salerno for a shot at GOP Representative Pete Sessions.
And in the Democratic gubernatorial primary, Dallas County Sheriff Lupe Valdez fought off the money and name ID of "conservative Democrat" Andrew White (son of former Governor Mark White). She will now have the unenviable task of taking on popular GOP governor Gregg Abbott. Valdez and 23rd District nominee Ortiz Jones are both openly lesbian, which actually did not draw much attention in their contests.
Arkansas
In the Little Rock–based Second District, where Democrats think they have a chance to knock off Representative French Hill, the candidate national and state party leaders wanted, state legislator Clarke Tucker, managed to win without a runoff over three opponents.
The 2018 primary schedule takes a break next Tuesday, but resumes on June 5, when eight states — including California — stage the year's single-largest and most significant batch of primaries. We'll know a lot more after that about the shape of the midterms.