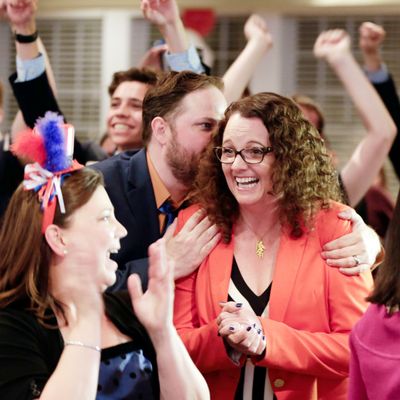 Progressive Kara Eastman won the Democratic nomination in a marginal House district in Nebraska.
Photo: Nati Harnik/AP/REX/Shutterstock
The 2018 primary season ended in four more states on May 15, and, overall, it was one of many that will likely give this cycle a "Year of Women" description, particularly among Democrats. It also was a pretty good day for self-conscious Democratic progressives — and a bad day for those who fear their viability in general elections.
The two trends converged in a Nebraska Democratic House primary in which a centrist former congressman with national party backing, Brad Ashford, lost the nomination for a marginal Omaha-area seat to an outspokenly progressive woman, Kara Eastman, who campaigned on support for single-payer health care and abortion rights. The latter issue, dramatized by Ashford's vote for a 20-week abortion ban in the state legislature, provided echoes to the 2017 controversy in Omaha when Bernie Sanders campaigned for a "populist" Democratic candidate for mayor (Heath Mello) who voted for the same 20-week ban. This time the Democratic left was united behind Eastman, whose three-point win over Ashford immediately led some analysts to downgrade Democratic chances of a win in the general election against Republican incumbent Don Bacon.
Meanwhile, two nationally renowned conservatives went down to defeat in Republican primaries, with House Freedom Caucus co-founder Raul Labrador losing a gubernatorial contest in Idaho to Lieutenant Governor Brad Little, and Rick Saccone, who famously lost a special election in March to Democrat Conor Lamb, who lost again in a GOP primary in an even more Republican district to state legislator Guy Reschenthaler.
Here are some key results from statewide races and notable congressional districts:
Pennsylvania
A remapping of the state's 18 U.S. House districts by the Pennsylvania Supreme Court in February created a bumper crop of competitive districts and open seats, with Democrats having the opportunity to pick up four net seats, and possibly even more. In the open and highly competitive Seventh District in the Lehigh Valley, the Democratic primary featured a progressive minister backed by Bernie Sanders's Our Revolution organization and a near-conservative district attorney with high name ID. But a third candidate, Allentown city solicitor Susan Ellis Wild, squeaked past both with backing from Emily's List. Her general-election opponent was generally expected to be Olympic cyclist Marty Nothstein, who was surprisingly locked in a near-tie with Lehigh County Commissioner Dean Browning in a race that hasn't yet been called.
In two strongly Democratic open districts in the Philadelphia suburbs, women won Democratic primaries as well. State legislator Madeline Dean easily won in the Montgomery County–based Fourth District. And activist attorney Mary Gay Scanlon won over a huge field in the Delaware County-based Fifth District. Since Scanlon's general election opponent is a woman (Republican Pearl Kim), Pennsylvania's currently all-male congressional delegation is certain to gain some diversity.
One Democratic woman who did not win was Rachel Reddick, who lost to photojournalist and wealthy self-funder Scott Wallace (a grandson of a former U.S. vice-president, Henry Wallace) in the Bucks County–based First District. Wallace will face incumbent GOP representative Brian Fitzpatrick in November.
In statewide primaries the Republican front-runners won: Representative Lou Barletta will face Democrat senator Bob Casey in November, and Governor Tom Wolf will be matched up against state legislator Scott Wagner. There was an eyebrow-raising result in the Democratic primary for lieutenant governor, where incumbent Mike Stack finished a poor fourth, while colorful "populist" small-town mayor John Fetterman — for whom Bernie Sanders campaigned personally — won by a comfortable margin.
Idaho
A progressive woman also made headlines in Idaho, as Native American state legislator Paulette Jordan, who was endorsed by a panoply of national progressive groups, defeated the local party favorite, businessman A.J. Balukoff, for the gubernatorial nomination. Jordan will face the above-mentioned Brad Little.
Oregon
The major primary contest in Oregon (where all four House districts are reasonably safe for their incumbents) was the GOP contest to face Governor Kate Brown, who has shaky popularity numbers but a distinct partisan advantage in a year like this one. The Republican front-runner and Establishment favorite, state legislator Knute Buehler, defeated two rivals (one a loud-and-proud Trump fan) to win the chance to take on Brown.
In the next two weeks 11 states will hold primaries and another (Texas) will hold runoff elections. The relative calm of May 15 will be replaced by a lot of noise and perhaps some drama.