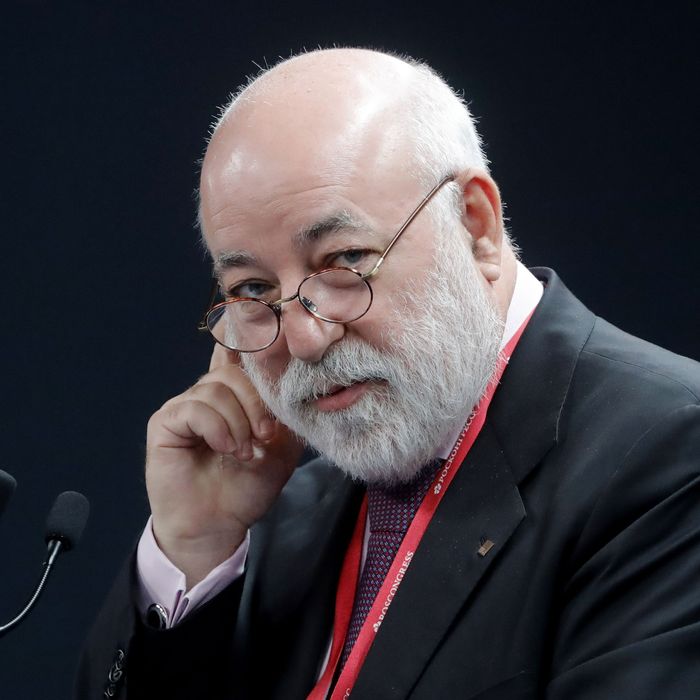 Russian oligarch Viktor Vekselberg.
Photo: Mikhail Metzel/TASS via Getty Images
Earlier this month, when Michael Avenatti reported that Michael Cohen's Delaware shell company received half a million dollars from a firm linked to a Russian oligarch, it looked quite shady. But the firm, Columbus Nova, quickly asserted the oligarch, Viktor Vekselberg, had only a tangential relationship to it, and had not used it as a conduit to pay Cohen. Columbus Nova released a statement insisting it was "owned and controlled by Americans and not Vekselberg, and denied that Vekselberg had ever owned the company or used it as a conduit for payments." So maybe it wasn't a Russian bribe. Maybe it was just an investment firm, which happened to have a large Russian client, looking to get influence with the administration the way many businesses do.
As more information has dribbled out, the innocent explanation has looked less and less plausible. A few days after the report, NPR's Tim Mak found the FBI had warned four years earlier that a foundation controlled by Vekselberg could be "a means for the Russian government to access our nation's sensitive or classified research, development facilities and dual-use technologies with military and commercial applications." So here was evidence Vekselberg was using entities he controlled to gain secret influence on behalf of Russia.
But that foundation was a different entity than Columbus Nova, and, as Mak noted, Combus Nova maintained it is "not controlled by Vekselberg and he exercises no direction over what it does." So maybe it was all still a coincidence?
But then, earlier this week, the Guardian discovered "American investment vehicles managed for Vekselberg by Columbus Nova were used to secure $450m in loans that Vekselberg took from the Russian state-controlled VTB Bank." That would seem to suggest Vekselberg had a lot of influence over Columbus Nova. Still, the story noted, "Columbus Nova has insisted Vekselberg had no involvement in hiring Cohen."
That brings us to today's New York Times revelation: Vekselberg met with Cohen in Trump Tower 11 days before the inauguration and discussed Russian-American relations. After the inauguration, Columbus Nova awarded Cohen a $1 million consulting contract — or, should we say, "consulting contract."
The chance that the firm linked to a Russian oligarch with a record of using his influence for secret state purposes met with Trump's fixer, and then the firm he is linked to gave Cohen $1 million, and that all this occurred without Vekselberg's knowledge seems quite low. The likelihood that their protestations of innocence hold up is lower still given that they forgot to mention the small detail of Vekselberg's meeting with Cohen.
It looks, instead, like a secret payoff from the Kremlin to Cohen. And then the more explosive question is whether any of that money ever made its way into Trump's pockets.