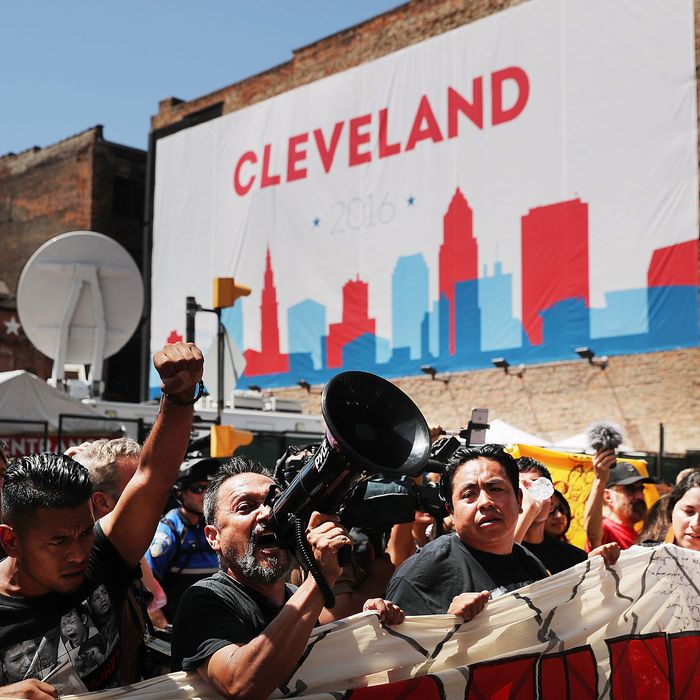 Protesters demonstrate at the 2016 RNC in Cleveland.
Photo: Spencer Platt/Getty Images
With the Republican National Convention a little more than two years away, the GOP is having a hell of a time finding a city to host the extravaganza, which will see Donald Trump nominated for a second term unless something unexpected happens between now and then.
At least four cities have declined to pursue the event after showing some initial interest, The Hill reports. Like most urban areas equipped to handle the convention, those waving away the GOP are largely Democratic, making the proposed influx of MAGA hats less than ideal.
"Their leaders do not want to suffer blowback with their residents for hosting Trump and neither do they want to have local business owners angry because protesters smashed their store windows," Republican strategist Evan Siegfried told The Hill.
Among the cities to back away from the RNC are Philadelphia, Nashville, and San Antonio, where the mayor explained in a recent op-ed that "national political conventions aren't the great deal for cities that the parties and their advocates want us to believe." But it wasn't just a financial decision. In a statement, Councilwoman Shirley Gonzales said that inviting the RNC to San Antonio would be at odds with the city's dedication to "cultural inclusion."
Las Vegas was in the running for the convention, but local Republican officials, who were pushing the bid, appear to have been overruled by the city's Convention and Visitors Authority.
That leaves Charlotte, which hosted the 2012 Democratic National Convention, as the only city publicly pursuing the convention. "I would say that Charlotte's bid is really strong," Mayor Vi Lyles, a Democrat, said last month. "I think our strength is that we have done it before."
But there are detractors. Earlier this week, the Charlotte Observer editorial board weighed in with an op-ed titled "RNC 2020: The risks aren't worth it for Charlotte." Those risks, the paper said, include the cost of the event, the nebulous benefits granted by it, and the man who will likely be accepting the GOP's nomination.
Meanwhile, NBC News reported this week that eight cities are enthusiastically courting the 2020 Democratic convention.