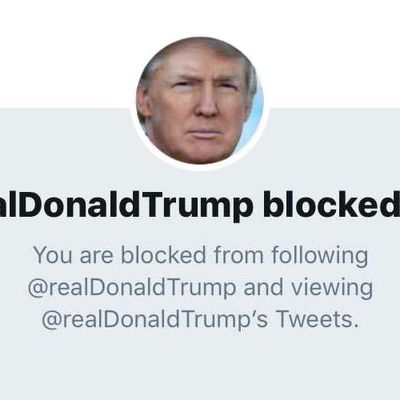 The same day a federal judge in Manhattan determined that Donald Trump's use of Twitter for official business is "governmental" in nature, and thus subject to the First Amendment, the president was having is usual meltdown — screaming "witch hunt" in all caps and trading in wild conspiracy theories about the FBI. In other words, another Tuesday.
But in ruling that blocking political critics on Twitter is unconstitutional viewpoint discrimination — that is, beyond the president's "ministerial" duties under the Constitution — U.S. Senior District Judge Naomi Reice Buchwald nonetheless bent over backwards to not deal too hard a blow to the blowhard. And his deputy blocker-in-chief, Dan Scavino, the White House director of social media, was also spared the full wrath of a judicial order. "Because no government official is above the law and because all government officials are presumed to follow the law once the judiciary has said what the law is," the judge wrote, "we must assume that the President and Scavino will remedy the blocking we have held to be unconstitutional."
Judge Buchwald, in short, presumed that Trump is a normal president who believes in the rule of law and who will heed a declaration of what he may or may not do — no separate injunction is needed either for him or Scavino. She concluded that "there is simply no reason to depart from this assumption at this time."
At this time. Which means she left the door open, should Trump punch back or resist, to do away with that assumption and issue such an order to force him (and Scavino) to obey the law — and maybe even hold him in contempt if she has to. One of the open questions of the Trump presidency is how much of a check the courts will be on a president with little to no regard for legal rules and constraints.
In a spate of rulings, we've already seen, time and again, how judges react to some of his administration's policies. But when it comes to his private mendacity, like the tweets he sends out in the dead of night, we've yet to see much judicial intervention, and with good reason: not everything Trump does is subject to judicial review. When Judge Buchwald heard the Twitter-blocking case in March, she even seemed leery of making too much noise with her decision. "You don't necessarily want to risk law being made," she warned the government in open court. But maybe law being made — as to conduct that up to now seemed beyond the pale for a president — is precisely the kind of sanity we need.