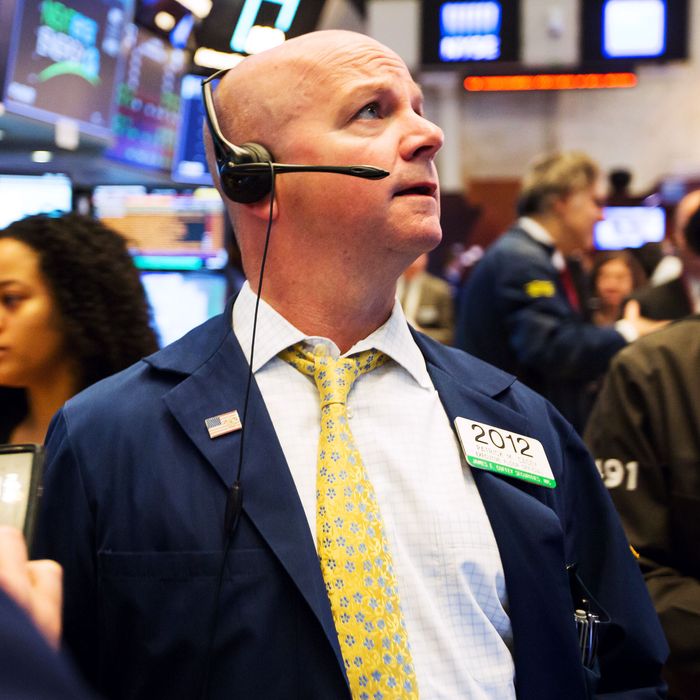 A bear of a day.
Photo: Michael Nagle/Bloomberg via Getty Images
The stock market returned from its holiday massively hungover.
Last week, months after Italy held inconclusive parliamentary elections, a populist coalition finally secured a mandate to form a new government. But over the long weekend, Italian president Sergio Mattarella refused to confirm that coalition's pick for economics minister — a Eurosceptic academic who had co-authored a guide for how to leave the Eurozone — and the populists refused to nominate an alternative. Mattarella responded by naming a pro-EU technocrat as the interim prime minister of a "caretaker" government. But it's far from clear that this new administration can win a confidence vote in Parliament. If it can't, a new round of elections could soon be held, and an even more embittered and extreme Eurosceptic coalition could plausibly win power.
These developments increased investors' fears that Italy might abandon the euro in the medium-term future — and/or, even default on its considerable sovereign debt, developments that could conceivably inspire the EU's other debtor nations to follow suit. Thus, when markets opened in the U.S. Tuesday morning, traders dropped shares of the nation's largest banks — which would be vulnerable to an Italy-induced credit crunch — and sought shelter in relatively safe investments, like German and American bonds.
The Trump administration then exacerbated this "risk off" by reigniting fears of a U.S.-China trade war: Last week, the White House had suggested that the 25 percent tariffs it had threatened to impose on $50 billion worth of Chinese imports would be indefinitely postponed, while Washington and Beijing pursued trade talks; but on Tuesday morning, the administration reversed course, announcing that it will release a final list of items subject to the tariffs on June 15, and begin collecting duties on them days later. This put a damper on the share prices of various manufacturers.
These (and other) developments sent the Dow Jones industrial average tumbling 390 points, or 1.58 percent,while the S&P 500 ticked down 1.1 percent, and the Nasdaq fell by a 0.5 percent.
The present consensus among analysts is that Wall Street's worst fear (at least, in the context of Tuesday's events) — an Italian debt default — remains exceedingly unlikely. Nevertheless, the prospect of EU instability and trade tensions between the world's two largest national economies will probably spoil investors' appetite for risk for some time to come.
But some observers take a more dire view. At the annual meeting of the European Council on Foreign Relations on Tuesday, George Soros argued that the "European Union is in an existential crisis" — and that the whole world could be headed for a "major financial crisis." Since the 2008 recession, Soros said, the imposition of draconian austerity on the EU's debtor nations fed popular opposition to the block's shared currency — while the migrant crisis fueled a backlash to the union's policy of open, internal borders. "As a result, many young people today regard the European Union as an enemy that has deprived them of jobs and a secure and promising future," Soros continued. "Populist politicians exploited the resentments and formed anti-European parties and movements."
The EU's instability — combined with the collapsing Iran deal, fraying relationship between the U.S. and Europe, and growing flight of capital out of the developing world — could send the global economy into "another major financial crisis."
To prevent that calamity, Soros called for an EU-funded "Marshall Plan for Africa," worth roughly $35 billion a year, a policy that would both strengthen emerging markets and ease migratory pressures. He also proposed a radical reformation of the EU, which would involve allowing member states to opt out of the euro.
But if Soros believes that such reforms could stave off a downturn in Europe, he isn't putting his money on it: Like so many of his other fellow investors did Tuesday, Soros is bearish on European equities, and has placed $256 million in bets against European companies.