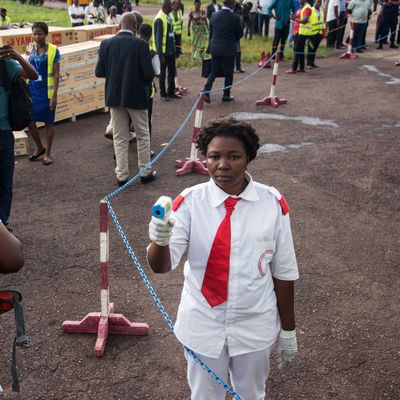 A health official uses a thermometer to measure the temperature of disembarking passengers at the airport in Mbandaka.
Photo: Junior Kannah/AFP/Getty Images
Three Ebola patients have escaped from a hospital in the Democratic Republic of Congo this week, coming into contact with hundreds of people and raising fears of a widespread outbreak in the port city of Mbandaka.
Two of the patients left the hospital Monday night with family members and died within he next 24 hours. One died at home while the other was brought back to the hospital before dying Tuesday night. A third patient who was close to being discharged left Sunday night but later returned.
"In all three cases every effort was made by staff at the hospital to convince the patients — and their families — not to leave and to continue their treatment," Doctors Without Borders spokeswoman Rosie Slater told CNN. "However, forced hospitalization is not the solution to this epidemic."
Health officials are now searching the city to find everyone with whom the patients came into contact. That includes their relatives and those present at the church where two of the victims were taken to pray. All told, officials have put together a list of 628 people who've come into contact with known Ebola patients. They will all need to be vaccinated, which isn't always easy when some prefer to use prayer instead of medicine.
Fears of a massive outbreak in Mbandaka, which has population of 1 million, come as the World Health Organization's head of emergency response says "we are on the epidemiological knife edge."
"The next few weeks will really tell if this outbreak is going to expand to urban areas or if we are going to be able to keep it under control," Peter Salama, a doctor, said at a meeting in Geneva Wednesday.
The first case of Ebola appeared in Mbandaka last Thursday, about a week and a half after the outbreak began in the rural parts of the DRC. "An urban case means that it can spread quickly," the WHO's Tedros Adhanom Ghebreyesus said Wednesday. The last Ebola outbreak in Africa demonstrated that, killing at least 11,300 between 2014 and 2016 after it spread from rural Guinea to cities in Guinea, Liberia, and Sierra Leone.