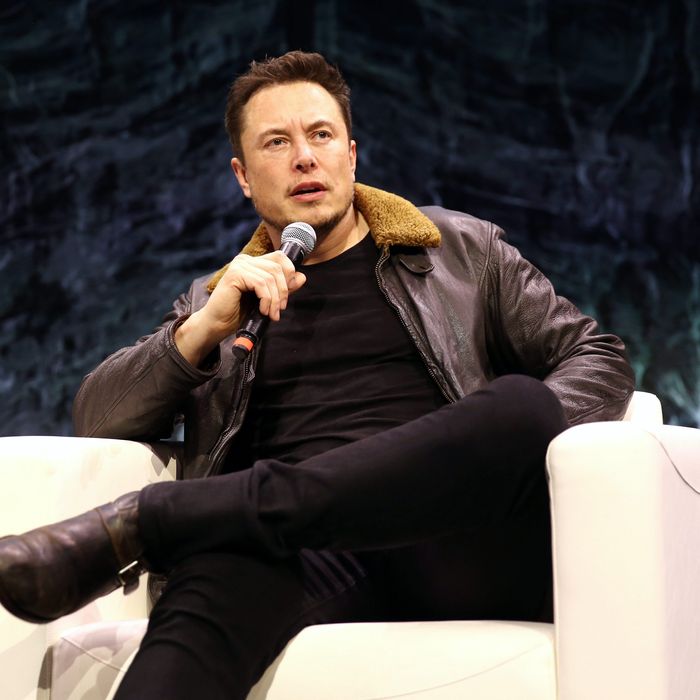 Elon Musk.
Photo: Diego Donamaria/Getty Images for SXSW
Tesla's stock price dipped on Wednesday after an earnings call Elon Musk held with financial analysts turned, uh, contentious. Like, Musk calling someone "boneheaded" contentious. Tesla has been burning through funds like wildfire as it prepares to launch its Model 3 car; according to a recent Bloomberg report, it's "going through money so fast that, without additional financing, there is now a genuine risk that the 15-year-old company could run out of cash in 2018. The company burns through more than $6,500 every minute."
But Musk — who recently tweeted that he was building a cyborg dragon — didn't really want to talk about cash flow. According to the Financial Times, Musk rebuffed multiple analyst questions about funding, interrupting one exchange to say, "Excuse me. Next. Next. Next. Boring bonehead questions are not cool. Next."
But before the next analyst had finished his question, Mr Musk interjected again. "We're going to go to YouTube," he said. "Sorry, these questions are so dry. They're killing me."




The next 20 minutes of the call was devoted to questions from Galileo Russell, who hosts a YouTube channel called HyperChange TV and had campaigned via Twitter beforehand to be able to field questions to "give retail investors a voice."
Musk rebuffed calls to preemptively raise funding ahead of possible fiscal peril. FT says that the tense call prompted a "5 per cent sell-off in shares in after-market trading." Well, at least Elon's still got the million he made selling flamethrowers.