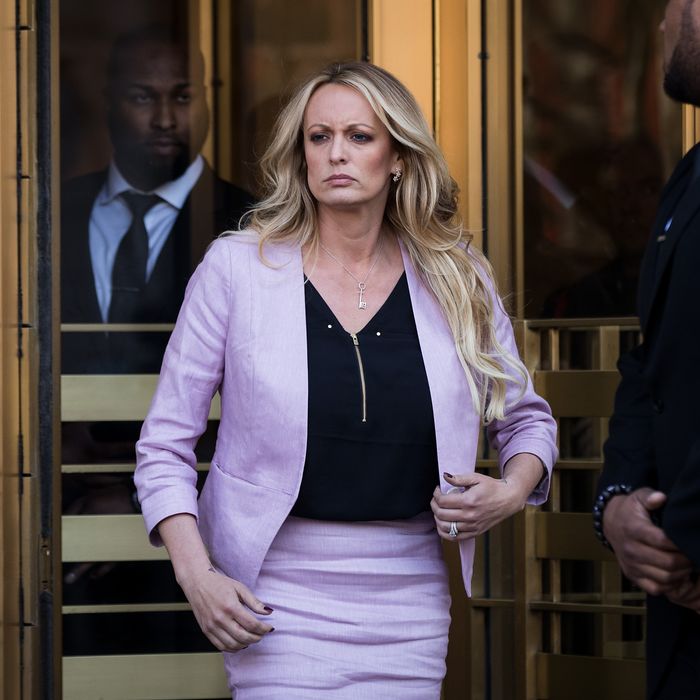 Secret hush-money payments seem like the kind of thing you'd remember.
Photo: Drew Angerer/Getty Images
At the end of March, the White House dismissed the allegations that Stormy Daniels had an affair with President Trump in 2006 and was paid for her silence just before the 2016 election, claiming she can't keep her story straight. "The president has strongly, clearly and consistently denied these claims," said White House Deputy Press Secretary Raj Shah. "The only one who's been inconsistent is the one making the claims."
Daniels has actually been very consistent in her description of her relationship with Trump, aside from two recent statements denying the affair, which she said Trump fixer Michael Cohen coerced her into signing. At least two of her friends said they heard Trump on the phone with her, and her tale of spanking, mediocre sex, and a Shark Week marathon hasn't really changed since she talked to In Touch's sister publication in 2011.
The same can not be said for the explanations emanating from Trumpworld. The president's advisers have always denied that he had a relationship with Daniels, but they've made references to previous statements that don't exist, and contradicted themselves on what Trump knew about Cohen's $130,000 payment. On Wednesday night, Rudy Giuliani offered an entirely new story, saying Trump may not have known what Cohen was up to at the time, but he's subsequently paid him back in monthly installments.
Here's how Trump's story has changed on some key questions.
Did Trump Have an Affair With Daniels?
November 4, 2016: Hope Hicks Denies Daniels Affair
Days before the election, Daniels's claims about her relationship with Trump were mentioned briefly in a Wall Street Journal report about how the National Enquirer silenced Karen McDougal, another woman who says she had an affair with Trump.
Hope Hicks, then a Trump campaign spokesperson, said it was "absolutely, unequivocally" untrue that Daniels had a tryst with Trump.
January 12, 2018: White House Denies Affair
The Wall Street Journal report that revealed the existence of the hush agreement includes this denial from an unnamed White House official: "These are old, recycled reports, which were published and strongly denied prior to the election."
January 12, 2018: Cohen Denies Affair on Trump's Behalf
Cohen issued his own statement, saying, "President Trump once again vehemently denies any such occurrence as has Ms. Daniels."
"This is now the second time that you are raising outlandish allegations against my client," he added, addressing the Journal. "You have attempted to perpetuate this false narrative for over a year; a narrative that has been consistently denied by all parties since at least 2011."
January 12, 2018: Daniels (or Maybe Cohen) Denies Affair
Cohen also emailed a two-paragraph statement, which was ostensibly from Daniels. It said she was denying any "sexual and/or romantic affair" with Trump, and, "Rumors that I have received hush money from Donald Trump are completely false."
January 30, 2018: Daniels (or Cohen) Issues Another Denial
Cohen released a statement signed by Daniels in which she denied the affair. "My involvement with Donald Trump was limited to a few public appearances and nothing more," it said. "When I met Donald Trump, he was gracious, professional and a complete gentleman to me and EVERYONE in my presence."
January 30, 2018, and March 25, 2018: Daniels Denies Her Denials
During an appearance on Jimmy Kimmel Live! later that night, Daniels said that she didn't know where the letter came from. Months later she told Anderson Cooper that the statements released by Cohen were both untrue, and she only signed them "because they made it sound like I had no choice."
Why Did Cohen Make the $130,000 Payment?
January 18, 2018: White House Claims They Already Addressed Hush Agreement, Though They Didn't
During a press gaggle on Air Force One, Deputy Press Secretary Raj Shah was asked about Daniels's claims. "This allegation was asked and answered during the campaign, and I'll point you to those comments," he answered.
When pressed on whether Daniels received a settlement or hush money, he answered, "Like I said, this matter was asked and answered during the campaign, and anything else could be directed to Michael Cohen." The brief statement Hope Hicks issued during the campaign did not address the payment.
February 13, 2018: Cohen Reveals He Paid Daniels With His Own Money, Won't Say Why
In response to a complaint filed with the Federal Election Commission alleging that the $130,000 payment violated campaign-finance laws, Cohen told the New York Times he paid her out of his own pocket. He would not say why or what Trump knew about it.
"Neither the Trump Organization nor the Trump campaign was a party to the transaction with Ms. Clifford, and neither reimbursed me for the payment, either directly or indirectly," Cohen said. "The payment to Ms. Clifford was lawful, and was not a campaign contribution or a campaign expenditure by anyone."
March 26, 2018: White House Won't Say Why People in Trump's Orbit Have Been Offered Hush Money
During a press briefing, Shah said Trump doesn't believe Daniels was threatened in Las Vegas in 2011, or any of her other claims. Nor would he address why Cohen paid her. "False charges are settled out of court all the time. You'll have to ask Michael Cohen about the specifics," he said.
Did Trump Know About the Payment?
March 7, 2018: Sarah Huckabee Sanders Suggests Trump Didn't Know About the $130,000
When asked about the payment during a press briefing, Sanders falsely suggested that Trump had already personally addressed the affair allegations, and accidentally revealed that he won the case in arbitration:
Look, the president has addressed these directly and made very well clear that none of these allegations are true. This case has already been won in arbitration. And anything beyond that, I would refer you to the president's outside counsel.
As for whether Trump knew about the payment at the time, Sanders said, "Not that I'm aware of," adding later, "there was no knowledge of any payments from the president, and he's denied all of these allegations."
April 5, 2018: Trump Claims He Didn't Know About the Money
In his first remarks on the subject, Trump told a reporter "no" when asked if he was aware of the payment to Daniels. Asked why Cohen paid her, Trump said: "You'll have to ask Michael Cohen. Michael is my attorney, and you'll have to ask Michael Cohen." He also said he didn't know where the money came from.
April 26, 2018: Trump Says Cohen Represented Him in Stormy Daniels Matter
When asked to describe his relationship with Cohen a long and rambling interview with Fox & Friends, Trump said he only handled a "tiny percentage of my overall legal work." He pointed to Daniels as an example:
But, Michael would represent me and represent me on some things. He represents me — like with this crazy Stormy Daniels deal he represented me. And, you know, from what I see he did absolutely nothing wrong. There were no campaign funds going into this … which would have been a problem. Because he's got other things. He's got businesses, and from what I understand they're looking at his businesses, and I hope he's in great shape.
Did Trump Reimburse Cohen?
February 14, 2018, and March 19, 2018: Cohen Says Trump Never Paid Him Back
In two interviews with Vanity Fair, Cohen reiterated that the $130,000 came from his own bank account, and Trump did not reimburse him.
May 2, 2018: Giuliani Claims That Trump Paid Cohen Back
In an interview with Sean Hannity, Giuliani, the new head of Trump's outside legal team, argued that the $130,000 was "not campaign money" nor a "campaign finance violation" because Trump reimbursed Cohen. (Though that's not what the law says.)
He went on to suggest that Trump repaid Cohen in installments via his retainer. "When I heard Cohen's retainer of $35,000, when he was doing no work for the president, I said that's how he's repaying it, with a little profit and a little margin for paying taxes for Michael."
May 3, 2018: Giuliani Elaborates on Trump's Payment Plan
Following the uproar caused by his Fox News interview, Giuliani told several outlets that Trump knew that he planned to disclose the reimbursement, and offered more detail. He told the New York Times that Trump was unaware of the deal when Cohen set up the hush agreement, but later he decided to pay him back:
"Some time after the campaign is over, they set up a reimbursement, $35,000 a month, out of his personal family account," Mr. Giuliani said. He added that over all, Mr. Cohen was paid $460,000 or $470,000 from Mr. Trump through those payments, which also included money for "incidental expenses" that he had incurred on Mr. Trump's behalf.
"That removes the campaign finance violation, and we have all the documentary proof for it," Giuliani added.
In a conversation with BuzzFeed, Giuliani said the payments were set up after Cohen "had complained to some people" that he hadn't been paid. "It clearly was a payment to reimburse expenses," Giuliani said — adding, "I'm almost certain that there wasn't an itemized bill."