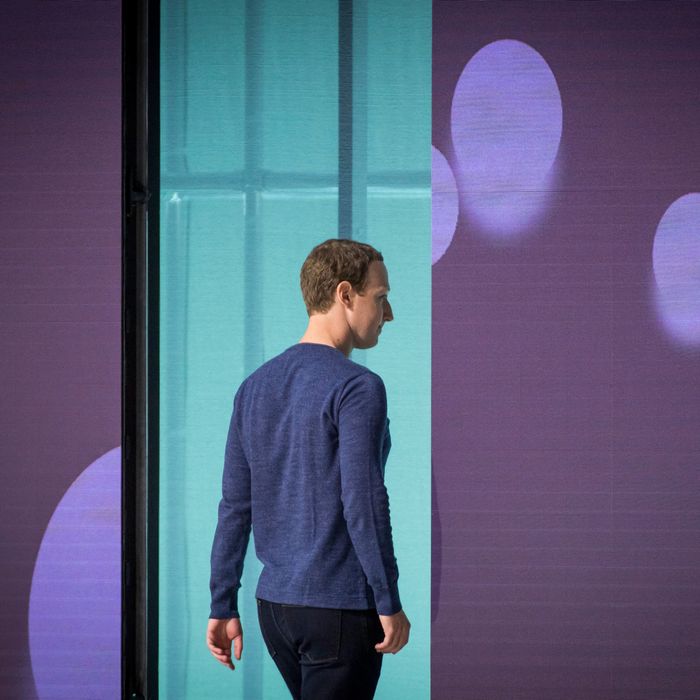 Mark Zuckerberg.
Photo: David Paul Morris/Bloomberg via Getty Images
In the interest of demonstrating to its 2 billion users that it cares about people beyond the walls of Facebook's headquarters, the company has reportedly agreed to two types of audits. According to Axios, they are "a legal audit of its impact on underrepresented communities and communities of color, and another to advise the company on potential bias against conservative voices."
The civil-rights audit will be led by celebrated civil-rights leader Laura Murphy. Relman, Dane & Colfax, a law firm that Axios writes "has litigated some of the most pivotal cases relating to housing, employment and public accommodation discrimination over the past two decades," will look at Facebook's platform and operation.
The "bias against conservatives" inquiry will be led by Jon Kyl, a former Republican senator from Arizona. The Heritage Foundation will meet with Facebook executives about the subject.
It's very difficult to care about any of this, for a few reasons. For one, it's just report-issuing. There are no enforcement or compliance mechanisms for whatever findings or recommendations are issued. It is Facebook spending a lot of effort and money to send the signal that "We Care." Facebook has long shunned outside help and advisory, and only brings it in when it's under the gun.
The civil-rights investigation is an important one — the kind of audit that all major companies should take seriously. But pairing it with a look at whether conservative voices are shut out makes it sound like a joke. Conservative outrage at Facebook has been wildly overblown, for reasons of ignorance and cynicism. Conservative news sources are not being squashed out on Facebook, and the continued use of Diamond and Silk as conservative victims of Facebook's moderation is a charade. Generally speaking, Facebook's move away from prioritizing exaggerated headlines and clickbait have affected conservative publishers more — but because of the publishing tactics used, not the substance contained within.