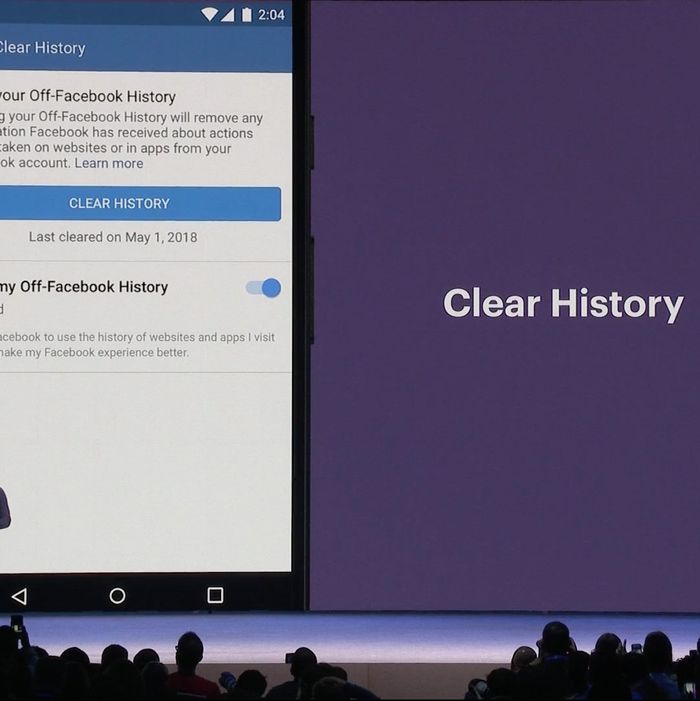 Ahead of the keynote for Facebook's annual F8 developer conference, Mark Zuckerberg announced yet another privacy-maintenance function that you'll have to keep tabs on Facebook. It's called, simply, "Clear History," and it's meant to help you control information that Facebook collects about you outside of its website. As a reminder, Facebook can basically log any website you visit that has a 'Like' button embedded in it.
"Once we roll out this update, you'll be able to see information about the apps and websites you've interacted with, and you'll be able to clear this information from your account," Zuckerberg announced. "You'll even be able to turn off having this information stored with your account." The off-Facebook information is not included in the tool that Facebook provides to let users download their data, but it is essential to how Facebook is able to discern user interests and target ads.
Facebook obviously has a vested interest in having you not delete this information, so Zuckerberg warns that if you wipe your history, Facebook will have to learn about you all over again. "But after going through our systems, this is an example of the kind of control we think you should have," he said.
Not to quibble, but "after going through our systems" is a hell of a euphemism for "after inquiries from regulatory bodies domestic and foreign." Regardless, it's another useful feature that gives users some semblance of control over what Facebook collects.