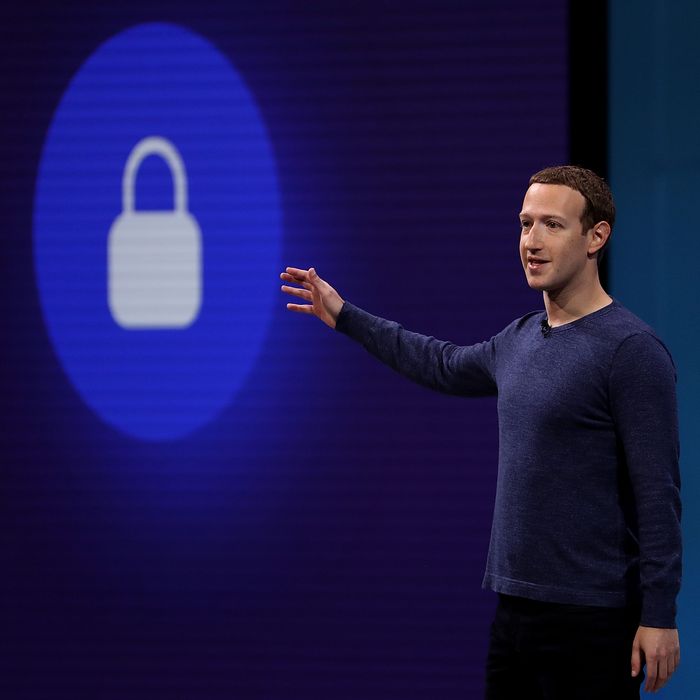 Mark Zuckerberg.
Photo: Justin Sullivan/Getty Images
This afternoon at F8, Facebook tried to look ahead (instead of behind, at, you know, the last few weeks). Facebook announced that it cared deeply about protecting its users from election interference, and then also wheeled out a Pomeranian with 8.6 million Instagram followers less than an hour later. There was a lot to unpack. Here's what you need to know.
Privacy and stuff
Facebook reiterated its commitment to protecting your data, and curbing election interference and making sure users have a good time with their friends and blah blah blah. Facebook cares. Zuck put that right at the start of the keynote to make sure that you know: He's sorry; he'll try to do better. Later in the keynote, Ime Archibong, head of product partnerships, assured developers that new restrictions on data use and new app review procedures were for the best. (It is, after all, a developer conference.)
Dating
Facebook is building a dating app siloed away from the rest of its products. Users create a separate dating profile, and can then share that with certain groups or when attending certain events. The private-messaging app is also separate. Facebook says it is focused on "long-term relationships," not hookups, whatever that means.
Clear History
Shortly before the keynote, Zuckerberg announced a feature to let users view and clear the data Facebook collects about web users when they're not on Facebook via embedded code. Clearing your history means that Facebook knows less about you, and that it is less able to personalize content. Oh, the horror.
Instagram Stories opens to developers
Stories, the disappearing posts that have helped Instagram overtake Snapchat, have been entirely controlled by Facebook, until now. Developers will now be able to share content straight to Stories, so potentially, you won't have to keep screenshotting Spotify to tell people what you're listening to. Devs can also create custom face filters for their followers.
On the flip side, part of the appeal of Stories is their disappearing — and implicitly private — nature. Letting developers get their hands on data about what users are sharing in posts that they assume are disappearing poses another privacy risk for the company.
Explore gets a redesign
The Explore tab will now use advanced artificial intelligence or whatever to filter suggested content by "topic and taste."
Everyone gets group video chat
Following Messenger (which already has it), Instagram and WhatsApp will get group video chat. In Instagram, you'll be able to minimize the video screen and browse the app while talking to friends.
Virtual reality
Oculus Go, the wireless, midrange virtual-reality headset is available … now! It costs $199. Zuckerberg also demoed a VR environment generated from old media, letting you, in theory, walk around your childhood home. Neat, but it's also not clear whom that would actually appeal to.